Friends The Reunion: Lady Gaga and Lisa Kudrow perform on Smelly Cat
Lady Gaga and Lisa Kudrow paid an ode to Phoebe Buffay as they sang 'Smelly Cat' on 'Friends The Reunion.'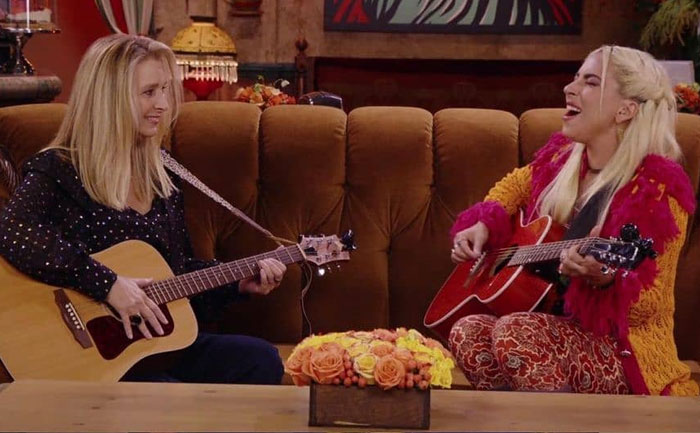 'Friends The Reunion' was telecasted today. The original cast of the show- Jennifer Aniston, Lisa Kudrow, David Schwimmer, Matt LeBlanc, and Matthew Perry reunited after 17 years. The reunion episode was a rollercoaster of emotions for all the fans.
One of the main highlights of the unscripted interview included Lisa Kudrow paying an ode to her character Phoebe Buffay's popular song, Smelly Cat on 'Friends The Reunion'. Not just that, pop star Lady Gaga also joined her and the duo performed together in the Central Perk.
Watch the video:
View this post on Instagram
Lady Gaga also dressed as Phoebe Buffay and donned an eccentric outfit. Gaga's hair was also similar and featured them up in space buns. Many gospel singers donning long blue robes also joined in.
At the end of the performance, Kudrow channeled Phoebe's line and mumbles and says: "I still think it's better when it's just me." To this Gaga says, "It is."
Later, Gaga also thanked Lisa for being herself on the show. "Can I just say, thank you so much for being the person for all of us on Friends. I don't know if it's the right way to say it, the different one or the one that was really herself."
Stay tuned to The Live Mirror for more updates.
ALSO READ: Friends Reunion: Jennifer Aniston, David Schwimmer Admit Having Crush On Each Other