Game of Thrones' Emilia Clarke Reveals How Much She & Her Male Co-Stars Were Paid
Game of Thrones Star Emilia Was Paid $3 Million Salary As Male Co-Star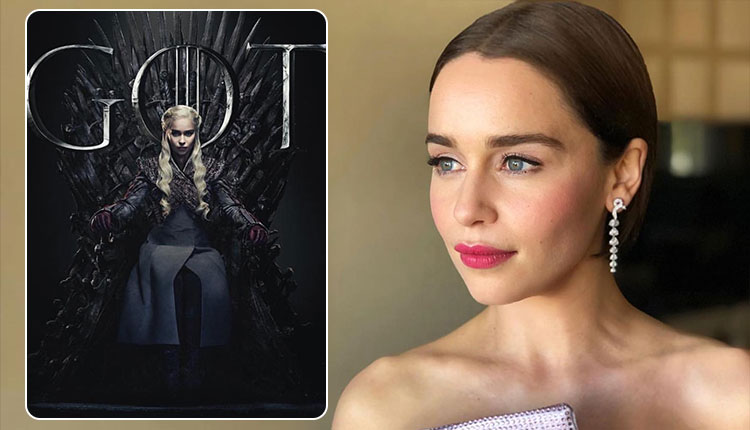 The last season of one of the most popular television series ' Game of Thrones' is less than a month away from its official release. The fans of the series have already marked their calendars for April 14, as the first episode of the final season will be aired on this date. Apart from its official launch, people are curious to get to know how much the GoT stars make money? Yes, the salary of Game of Thrones stars has been revealed by none other than Emilia Clarke.
According to a report in Metro.co.uk, Emilia Clake might have been teared up while shooting for the last season of the fantasy saga. However, she had a reason to smile. Yes, we are talking about her payout, she was reportedly paid the same amount to her male co-star.
The star is reportedly worth a whopping $13million (£9,760,000), from both her role in the HBO drama, as well as her campaign with Dolce & Gabbana. It seems like being a mother of Dragon is not a bad job at all. Speaking about the salary to Banitry Fair, Emilia Clarke said: "I get f**king paid the same as my guy friends. We made sure of that."
In the year 2014, Deadline reported that Emilia, as well as her fellow GoT stars Kit Harington, Peter Dinklage, Lena Headey, and Nikolaj Coster-Waldau had asked whopping a $300,000 (£225,000) salary increase for every episode in seasons five and six.
Whereas, in season 7, the five GoT renegotiated their deal to $500,000 per episode and Clarke made sure that she was paid the same as her male co stars.
When Emilia Clarke was recently asked about the final season of the show. Clarke told E! "It's going to be huge, that much everyone needs to know. It took us a long time to film this one for a very good reason. But I think there's going to be some things… I know there's going to be some things in this last season that will shock people."
Also Read: 27 Game Of Thrones Filming Locations In Real Life