Game of Thrones' Art Director Hauke Richter opens up on the Starbucks cup in Winterfell
The recent episode of Game of Thrones surprised us as we spotted a Starbucks coffee cup in one scene.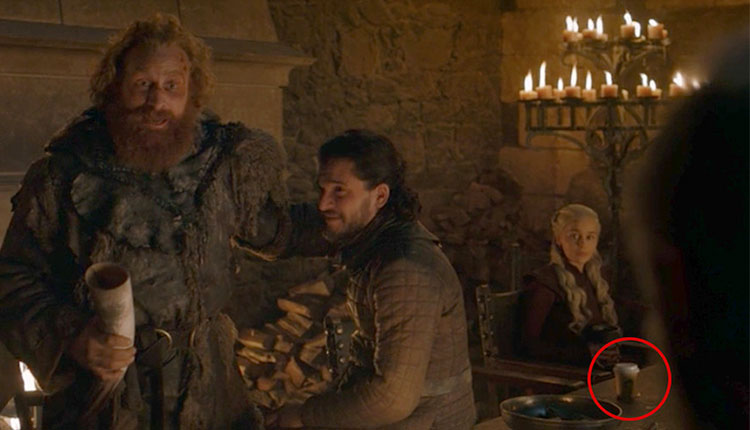 Game of Thrones' recent episode The Last of the Starks has been in news due to the presence of Starbucks coffee cup. Viewers are surprised at how the Starbucks coffee cup made its way to to the medieval ages of Winterfell in Game of Thrones. The particular scene faced trolls from netizens and social media is flooded with backlashes by netizens. Now, art director of Got Hauke Richter has opened up why the audiences saw a Starbucks coffee cup in the episode.
Starbucks coffee cup was seen in one of the scenes where Daenerys Targaryen was seen with Jon Snow and Tormund Giantsbane during the celebrations after the Long night. Hauke Richter in an email to Variety said, "Things can get forgotten on set. [The coffee cup gaffe] so blown out of proportion, it has not happened with 'Thrones' so far."
According to Bernie Caulfield, an executive producer of the show said that the cup was a mistake. He said, "We're sorry!". HBO also released an official statement where they have said, "The latte that appeared in the episode was a mistake. Daenerys had ordered a herbal tea."
Here are some of the comments by Twitterati.
Close up of that Coffee cup mistake in #GameofThrones pic.twitter.com/FighJzudwS

— Ronnie?Vuki? (@VRonni3) May 6, 2019
GoT cinematographer: i know there are exactly the right amount of starbucks cups in the shot bc i shot it https://t.co/MKW5ifKKtb

— ☕netw3rk (@netw3rk) May 6, 2019
That Winterfell starbucks cashier ain't ready to write Dany's name on her coffee cup #GameofThrones pic.twitter.com/N4ktWH1NlJ

— Joseph (@TheGeneralSYD) May 6, 2019
You're telling me they had TWO YEARS to put together a decent show and they couldn't even spot the goddamn Starbucks cup in Winterfell??!?! #GameOfThrones pic.twitter.com/8opg7nyydv

— Jenna Guillaume (@JennaGuillaume) May 6, 2019
If you haven't watched the episode, you can still watch it on Hotstar and don't miss to spot the coffee cup.
Also Read: Game Of Thrones 8: Will Bran Stark Turn Into A White Walker To Defeat The Night King?