Gujarat: 'Gau Rakshaks' stab man for illegally transporting buffaloes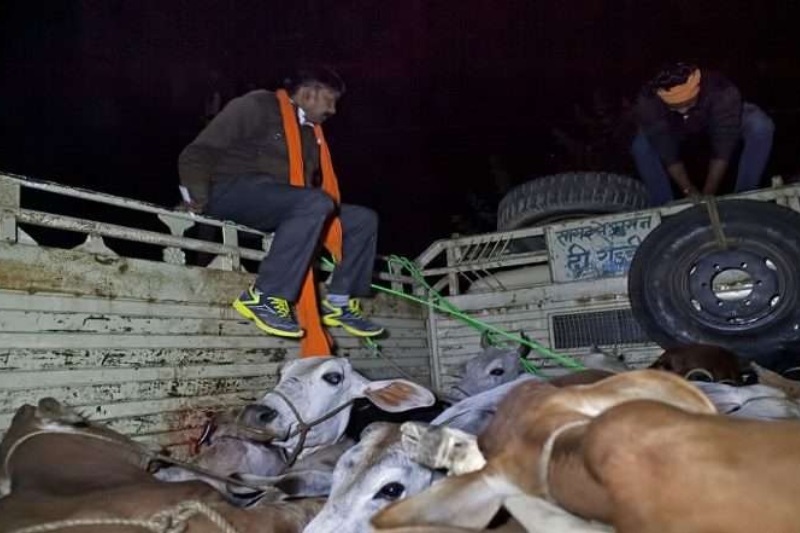 A truck conductor from Deesa was allegedly stabbed by 'gau rakshaks' near the Ramol area of Ahmedabad for illegally transporting buffaloes on Saturday.
According to a report in The Indian Express, the truck was reportedly carrying around 30 buffaloes and was on its way to Bharuch in South Gujarat from Deesa in the Northern part of the state.
The truck was also without any mandatory papers and had taken to permission for the work, said the police as reported by the daily.
A senior officer told the reporters that two FIR has been registered in the Ramol police station — one against the driver and the conductor under provisions of the Prevention of Cruelty to Animal Act for illegally carrying the animals and second against the four unidentified people (gau rakshaks) for attacking the truck's conductor.
Following the incident, the injured conductor, Zaheer Qureshi, was rushed to the Ahmedabad Civil Hospital – in a critical condition – where he underwent an operation and is now out of danger.
Qureshi, a resident of Deesa, informed the police that truck driver Mustafa Sipai had approached him to accompany for a trip from Deesa to Bharuch on Saturday night.
He further stated that there were around 30 male buffaloes in the truck which Sipai was driving. Ten around 12:30 when they reached Soni near the Ramol area, some unidentified people with sticks tried to stop the vehicle claiming themselves to be 'gau rakshaks'.
The driver-conductor duo tried to run away but Qureshi was stabbed on the chest using a sharp knife-like weapon by one of the two men on a bike.
Ramol police inspector M S Kotwal was quoted by the daily saying "Truck driver, Mustafa Sipai has been arrested on the spot whereas Qureshi will be arrested after he recovers from the injury."
Kotwal also added that the FIR against Qureshi and Sipai was registered after a complaint by Lok Rakshak Dal (LRD) jawan Yogirajsinh.
An FIR has also been lodged against the attackers if Qureshi but the police are yet to identify or arrest them. "Since it was night time, the attackers managed to escape. Investigations are on to trace and arrest them," said Kotwal.
Also Read: Sabarimala row: 'Devotees are not terrorists', says Union minister KJ Alphons