Kylie Jenner trying to teach daughter say 'Kylie Cosmetics', will make go awwww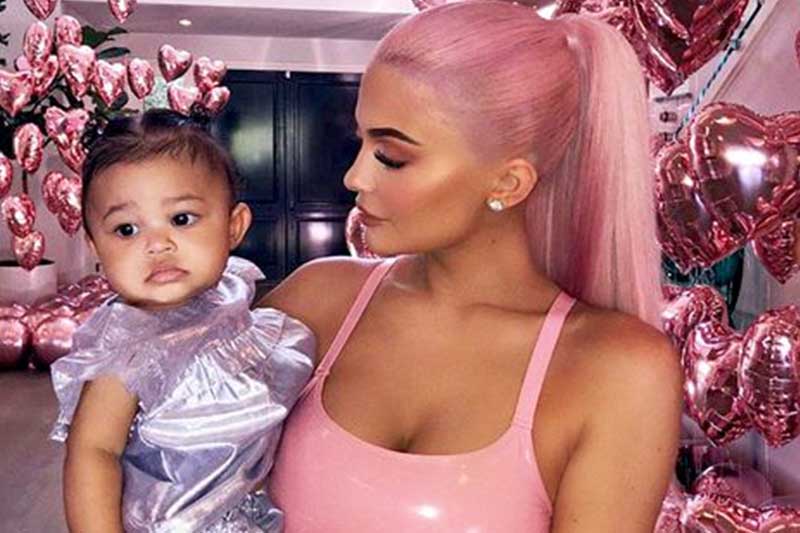 Model cum entrepreneur Kylie Jenner's daughter Stormi is apparently not quite ready to be a brand ambassador for Kylie Cosmetics.
In a recent video posted by Keeping Up with the Kardashians star, posted on Instagram over the weekend, Jenner, 21, tried to get her 9-month-old baby to say the name of her booming cosmetics business, 'Kylie Cosmetics', while Stormi wants to go for an easier word, 'dada'.
In the video, one can see that Stormi is fiddling with one of her mom's shiny makeup packages, and Kylie Jenner slowly repeats, 'Kylie Cosmetics' — but the baby just babbles 'Dada' in response. Kylie asks, 'Dada', with a laugh and her baby giggles with her too.
View this post on Instagram
Father of baby Stormi, Tavis Scott commented on the video writing, "Da da. I'm otw back momma."
Last month, Kylie revealed is a snapchat live post about the special bond that the father and daughter share, "She is just like her dad but she looks like me, so. She is obsessed with her dad, though. It's cute to watch," as reported in US Weekly.
Earlier in the day, Kylie posted a precious mirror selfie in which she holds Stormi on her hip. She captioned the photo as, "ugh i love you so much. a living breathing piece of my heart."
Last week on Saturday night, after Scott hosted Astroworld Fest in Houston, Jenner shared pictures of the rapper holding Stormi and couldn't stop praising her partner.
Also read: Anushka Sharma unveils first interactive wax figurine at Madame Tussauds