Is PM Modi's 'Good Governance' a myth that has busted?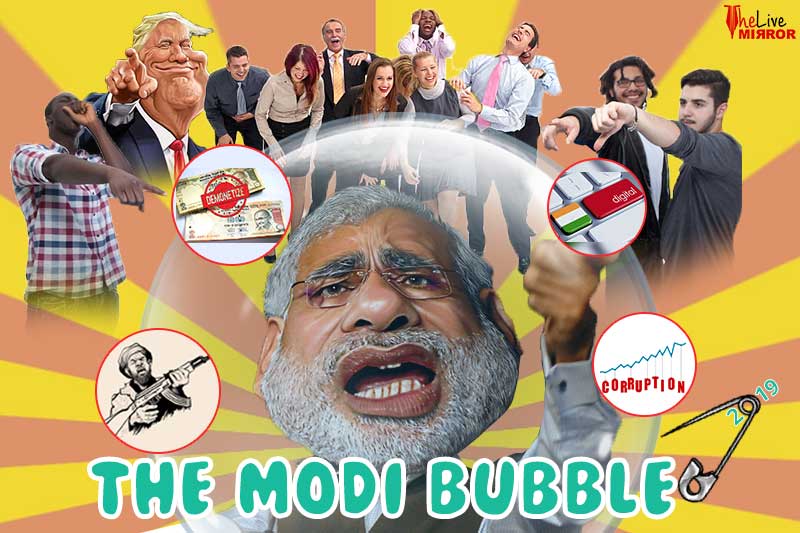 When Narendra Modi was on the verge of taking over the reins in New Delhi, he spoke mostly about two aspects — good governance and anti-corruption. He actually came to power by highlighting these two points, where Congress-led United Progressive Alliance (UPA) failed to deliver during its regime.
As the BJP-led National Democratic Alliance (NDA) was voted to power with an overwhelming mandate, people were looking for the two above-mentioned counts to improve, and improve by leaps and bounds. But in reality, this has unfortunately crashed, like a chopper does.
Demonetisation:
First, dishing out an ill-planned demonetisation was the initial step that busted the myth of good governance. No cash, no planning, only tyranny and then suddenly came to the fore. Prime Minister Modi was indifferent and once asked for 50 days from the citizens to revive the situation. But as a matter of fact we still haven't recovered from the shock in almost two years. The government has no answer to this, apart from the brazen denial.
Instead, the government has been beating its own drums about the impact of demonetisation with no substantial document to prove. The eradication of black money now seems to be a myth as the Reserve Bank of India (RBI) in its annual report, on August 29, has put it on record that the move to curb black wealth failed miserably. It said that 99.3 per cent of the demonetised currency was back in the system.
There's more to it. Even someone like Gita Gopinath, the new International Monetary Fund (IMF) chief economist, too had slammed the move in as many words. "Not only unprecedented in terms of practice, it is also unprecedented in terms of theory. Because pretty much every single macro-economist colleague of mine, whom I have spoken to, would say that this is something that we probably do not recommend to any developing country," said the 46-year-old economist during an interview with The Print's Editor-in-Chief Shekhar Gupta in his show 'Walk the Talk' a year ago.
Also, John Zwaanstra, professor of International Studies and Economics at Harvard University, put it even straighter. "Even in an advanced economy, you wouldn't do that," the professor didn't mince his words. But our PM has already said that India doesn't need Harvard, but hard work. The sad part is many people believe that too taking PM's words as gospel truth.
Also, our finance minister Mr Arun Jaitley is never in mood to mull on figures and expert advice, but banks only on his and his PM's rhetoric. There's no answer though whether he does it to be in the good books of the PM or he speaks his mind.
Digital Economy:
Then came the digital economy part where the government not only failed in its endeavour, the move literally back fired. According to a recent report in The Economic Times, India now has 95 per cent of transactions which are done through cash and chequebooks while only 5 per cent are via the digital mode.
Counterfeiting Terrorism:
The counterfeit to stop terrorism also turned out to be a myth. There have been no signs of stopping cross border terrorism. Every other day, our jawans are martyred and innocent people are killed by ghastly attacks. In those trying times, government only offers condolences and condemnation with no solution in sight.
Aadhaar Advisory:
Last but not the least, is the Aadhaar advisory by the government. Announcing that Aadhaar will have to be linked to mobile phones and bank accounts, the matter landed in Supreme Court for an amicable solution. In the meantime, government went ahead in good pace with their plans of linking Aadhaar with many essential services without thinking of the outcome of the apex court.
Now, when on September 26, the honourable Supreme Court delivered its verdict by striking down Article 57, the hara-kiri to delink Aadhaar is on full swing at the moment. The point is when it was required to be linked, people faced enormous harassment queuing up in front of mobile outlets or banks, and few months down the line — after the Supreme Court's verdict — citizens will again have to go through same ordeal, this time to delink it. If this is good governance, then what's bad governance?
LIC:
In another development, the Life Insurance Corporation (LIC) — a profit making organisation — was made to acquire 51 per cent stake of the IDBI bank which was debt-laden. Though Union Minister Piyush Goyal termed it a "win-win" situation, but the actual repercussion is yet to be gauged. So, things stand in such a juncture that the insurance premiums from the customers will now be used to light up the bank's fortunes. Hope it doesn't nosedive like many other initiatives taken by this government in last four-and-half years.
Corruption:
Now about the corruption, the less said is better. The controversy over the Rafale fighter jets has almost snowballed into a scam and the government is under scanner for multiple reasons. Taking from the pricing to exclusion of HAL to favour industrialist Anil Ambani is the hottest topic in political circles. Therefore the promise of anti-corruption also seems to be up in the smoke. If something comes out of the Rafale deal that puts the government in bad light, then the entire promise that was made pre-2014 would fall flat and it would be back to square one.
Graphics designed by: Sagar Sutaria and Avinash Khandekar
ALSO READ: Rupee depreciates, fuel prices soar; no respite for common man