AAP Dharna : Government should go when it starts fearing citizens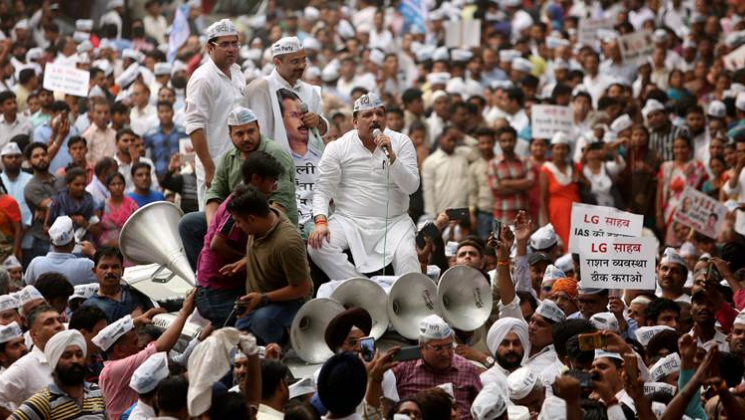 Targeting the Narendra Modi government, the Aam Aadmi Party (AAP) on Sunday said that when a government starts fearing its own people, it is time for it to go.
The observation came just hours before AAP's proposed march towards the Prime Minister's residence for which the Delhi Police has denied permission.
AAP spokesman Saurabh Bhardwaj said that it "felt like everything has gone five years back" when the then Congress-led United Progressive Alliance (UPA) "felt threatened and used its police force to stop Delhi citizens from protesting against it (during Lokpal agitation)". "I feel when a government starts fearing its own people, then it is time for that government to go," Bhardwaj told the media here. AAP ministers, workers and supporters will gather at 4 p.m. at Mandi House and march towards Modi's residence by 5.30 p.m. Delhi Chief Minister Arvind Kejriwal, Deputy Chief Minister Manish Sisodia and Cabinet ministers Satyendar Jain and Gopal Rai have been camping at LG Anil Baijal's office since June 11 to push for their three demands including an end to the IAS officer's "strike" of four months.
The police have deployed heavy barricades and force and advised Delhi Metro to shut entry and exit in five stations. Bhardwaj said AAP's Ministers were being "threatened and enquired" about the route of the march and the MLAs' offices were being continuously monitored. "They are trying their best to stop the people at the AAP MLAs' offices, not allowing the buses to move from their localities and not allowing people to reach the Prime Minister's residence," he said. Bhardwaj, as an elected representative, asked the IAS association to "show him one line in their association's code of conduct which empowers them to decide which meeting of an elected minister or Chief Minister they can attend or boycott. "They can approach any court but the taxpayers of Delhi want to know why they are not working since the past four months, why are not they attending any Delhi government's meetings," he added.
Image Source/ The Indian Express