Green vine snake discovered aboard CSMT-bound train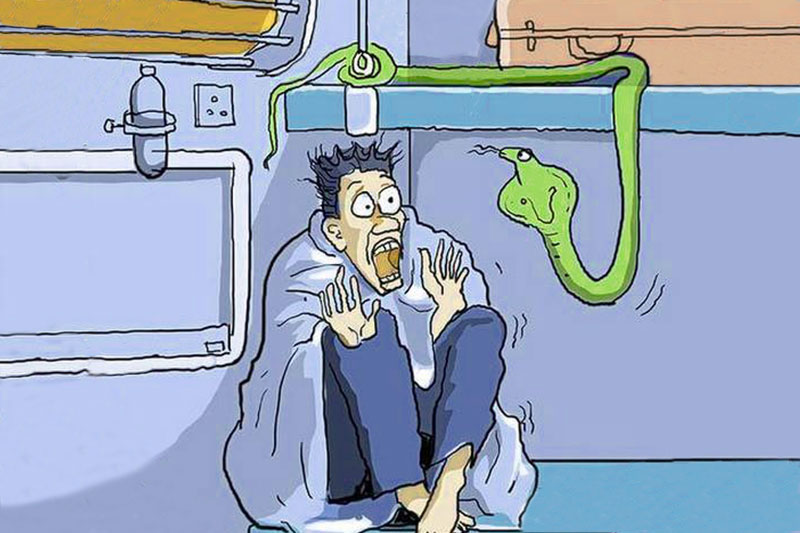 A state of panic and chaos spread throughout a compartment of an 8:33 am Titwala-CSMT local as commuters tried to steer clear of a venomous green coloured snake during the morning peak hours.  The reptile,  identified as a green vine snake attempted to climb a handle-bar near the door of a first-class general coach. Kaustubh Darves, who is a snake expert from Thane identified it as a green vine snake after looking at the photos and video captured from the scene. "It's also known as the long-nosed whip snake [scientific name: Ahaetulla nasuta]. It's a mildly venomous snake commonly found in Mumbai's suburban region."
#Watch: Vine snake found in Titwala-CSMT local train; frightened commuters pulled the chain at Thane. pic.twitter.com/vAuR6IBSoY

— Mumbai Mirror (@MumbaiMirror) August 2, 2018
Of the commuters in the general first-class compartment, the snake was spotted near the rod close to one of the overhead fans by a man as the train was heading to Thane station who then raised an alarm. The fans and lights were immediately  switched off and commuters pulled the chain, after which the train halted at Thane station.
"The train stopped at Thane station's platform no. 4 for 5-10 minutes. Before the officials could reach the spot, some of the commuters braved and caught the snake and released it on the tracks." said a Central Railway (CR) official from Thane station, who did not wish to be named. "The snake was around 1.5 feet long."
Also read: Maharashtra: 60 Russell's viper snakes salvaged from Zilla Parishad school
CR chief spokesperson Sunil Udasi hinted at the possibility of the snake being let into the train on account of mischief whilst adding that the train had already made two trips since 4:32am and the snake appeared only in the third trip.
"It is mischief on the part of somebody. The Railway Protection Force in on the job to nab the culprit. This rake had completed two trips since 4:32 am and hadn't gone to the yard in between," Udasi informed.
"We are scanning videos of the incident to find out how the snake managed to appear in the coach all of a sudden," he said.
Also read: Here's how we wished the a very happy world snakes day to the politicians of India!