9 Best Grand Theft Auto V mods: How To Download, Install GTA 5 Mods On PC
Looking for top GTA V Mods, Here are favorite tweaks include Complex Control, Realistic Damage System, Warfare Mod, Project London and many others.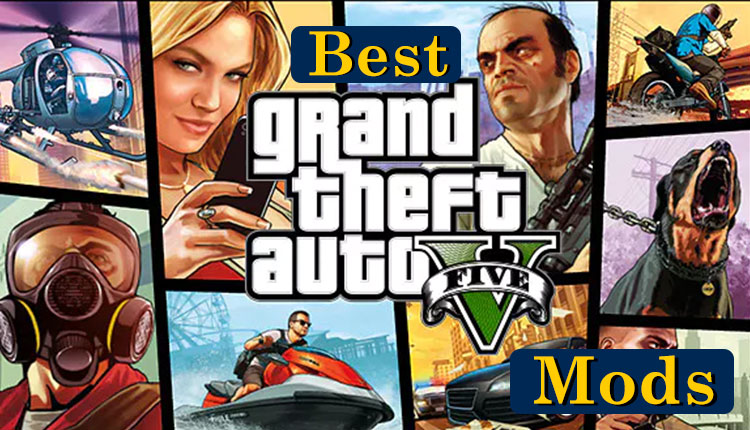 Grand Theft Auto 5 or GTA V is undoubtedly one of the best gaming franchises out in the market because it allows users to explore the complete open-world without having to focus on anything. Talking about the PC version of Grand Theft Auto V, it has end numbers of advantages over the console release such as improved multiplayer, better graphics and support for higher resolutions.
We all sometimes feel boring while playing the game even GTA 5 when there is nothing to add to the game. At this time, extra mods came into play. Yes, you can install dozens of additional Grand Theft Auto 5 mods such as fire breathing dragon, Marvels Iron Man or others, which will generate some interest. If you are looking for a list of GTA V mods, how to Install, download it in the game, you can read it below.
If you are searching for the best GTA V mods, you should download this without any delay. Script Hook makes the games' script available to others which is a requirement for some GTA 5 mods. It also provides you access to a feature-rich trainer which has a capacity to turn you into a virtual god. Download Script Hook V from here.
Here's a list of 9 best GTA 5 mods
1. COMPLEX CONTROL
GTV V is undoutebdly one of the best and evergreen video games. Complex Control mod is a single-player royale-life spawning your character in a random location on the game's enormous map, and you win if you manage to stay in the last designated zone for at least four seconds.
Complex Control mod adds 100 unique character skins, 55 unique and balanced abilities, roguelite, permadeath and battle royale mechanics, and is the work of more than 1,500 hours of solo development. It transforms the face of GTA 5 entirely.
2. EUPHORIA RAGDOLL OVERHAUL
There are plenty of new things which have been improved in the game. Using Euphoria Ragdoll Overhaul mod you will behave more realistically even you are badly damaged or collapsed to the ground. Headshots will immediately send a person to the ground like a ragdoll, and civilians will respond to nearby explosions by covering their heads.
3. Realistic Damage System
You must be tired or get bored playing Michael, and Franklin like tea bags? Realistic Damage System GTA V mod offers you a more realistic injury experience. Nerve damage, heart attacks, internal bleeding, collapsed lungs, limb-targeting—it's all there, determined by five states of injuries and bleeding: None, Light, Medium, Heavy and Deadly.
According to the designer of this mod, it has been designed to "totally change gameplay [to] make it more realistic and hardcore".
4. Warfare MOD
This GTA V Warfare mod gives 20v20 military-themed showdowns that must be seen to be believed. You watch the video above to check some of the above. As you can see in the video, skirmishes can incorporate tanks, choppers and other vehicles for maximum chaos—while battlegrounds can range from yachts to full Los Santos districts.
Apart from these, it also has a survival mode, which pits you against an infinitely spawning number of baddies.
5. SUPER MARIO PLUMBERS
You must be surprised to see that Mario and his pals have finally made their ways in Grand Theft Auto V. What we quite happy impressed to see what Super Mario mod is offering. You are free to explore Los Santos as the classic mustachioed plumber, beat up random pedestrians, speed along the streets, and get into far more trouble than the Mushroom Kingdom would ever allow. If you get sick of Mario, the mod also includes other favourites like Luigi, Wario, and — of course — Waluigi.
6. Natural Vision Remastered
Natural Vision Remastered is reportedly inspired by graphics games such as Forza Horizon 3 and Watch Dogs. It offers an ambitious and impressive GTA 5 visual mod. The creator of this mod, Razed has relentlessly worked for days to make it worth and bringing it together.
According to reports, Razed had spent over 1,200 hours (50 full days) of work on the project, and pored over 40 hours of video footage research, hundreds of photographs, and having wandered down the real-life streets of Los Angeles and neighbouring settlement Salton Sea via Google Street Maps more times than he can recall.
7. Grand Theft Space
This mod converts players from GTA V's urban sprawl to the cosmos above. Currently, Grand Theft Space mod boasts a functioning space shuttle, 11 planets, three moons and scant alien life. Its work-in-progress open-source project could be the fully customizable space sandbox that we have always wanted, as it blends real-life research with science fiction to great effect.
8. Project London
Project London is touted to be one of the most ambitious GTA V mods, which has been build to city which should be similar to London in Grand Theft Auto 5. And while the original GTA: London was set in the late '60s, this version is said to be inspired by the modern city.
This mod is a work-in-progress venture that's seen its creator crafting landmarks incrementally, before building the project out into a pseudo interpretation of The Big Smoke. Doing so involves a fair bit of Google Street-mapping, researching real-life videos and photos, and a touch of artistic license.
9. LIBERTY CITY
The last Grand Theft Auto V mod in our list is Liberty City, which has the ability to take you back in GTV IV and can reset the game map as GTV IV's Liberty City. Currently, there are some errors in this mod which need to be sorted out. It's an interesting experiment that is certainly worth checking out for those interested in returning to the iconic Liberty City.
HOW DO I INSTALL GRAND THEFT AUTO V MODS?
Installing GTV V mods is quite simple. What you just have to do is to copy the mod files you have downloaded into the main GTV 5 folder. If you are currently using the Stream version of it, this will probably be:
c:\program files (x86)\Steam\SteamApps\common\Grand Theft Auto V
or similar. If you're not using the Steam version, you'll need to find the main game folder with the GTAV.exe file in.
Many GTA V mods use Script Hook V as a base and will require you have it installed for them to work. Simply download Script Hook V, open the .zip folder and find the 'bin' folder, and copy and paste the three files into the main Grand Theft Auto V folder.
Also Read: GTA Online Cheat Maker Lost Lawsuit Against Take-Two, Fined $150K