H D Kumaraswamy can finally perform his duties as a 'Chief Minister of Karnataka'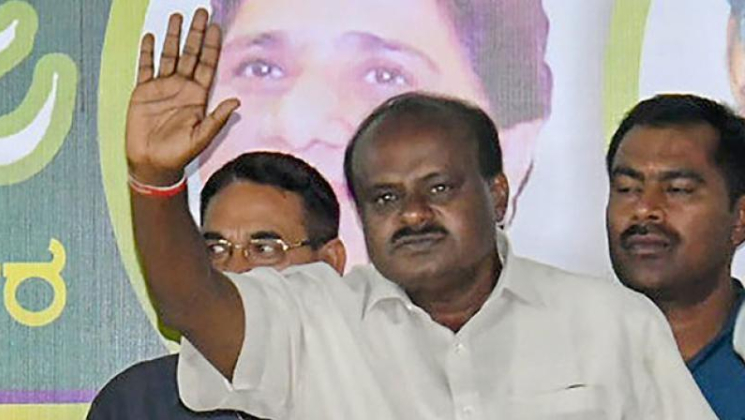 The much-anticipated election of the speaker ended in an anticlimax as the BJP informed speaker K G Bopaiah that it does not want to press for the election.  The party withdrew its candidate S Suresh Kumar, giving clear chit for the unanimous election of the Congress's six-term MLA K R Ramesh Kumar.
There was an acetous war of words between Kumaraswamy and his predecessor BS Yeddyurappa. Yeddyurappa made multiple facts in a way that allows no doubt about targeting Kumaraswamy and his family but interestingly spared Congress. Yeddyurappa said he would call for a state-wide bandh, sparing Bengaluru, if the coalition government didn't announce a farm loan waiver by Friday. With no surprise left in the trust vote as the numbers were clearly with the Congress-JD(S) alliance — 117 to 104 in favor of the alliance — Yeddyurappa made sure he jumped to the headlines with his personal attacks on Kumaraswamy's "untrustworthiness". Kumaraswamy kicked off his speech by saying he was pained that voters hadn't placed their trust in his party but promised to work for a stable government.
He said  "No party had got the full mandate and questioned how BJP could claim it had the right to run the government. I am not hankering for power… nor is my family. We have spent much of our political life in the opposition".
A sarcastic reply was given by Yeddyurappa accusing the JD (S) of opportunism and recalled how it had betrayed the Congress in a coalition arrangement in 2006. Without taking the name of Kumaraswamy's father and former PM H D Deve Gowda, the BJP leader said: "The father & sons will ensure Congress is wiped out from Karnataka, beware. Congress will know their true colours in the next couple of months." He said that the Gowdas faced corruption charges. Kumaraswamy dubbed these remarks as "pure theatre" and said it was Yeddyurappa who had sent out feelers seeking a coalition.
The JD(S)-Congress coalition government in Karnataka can finally start talking about state affairs after the confidence motion moved on Friday by chief minister H D Kumaraswamy was passed with a voice vote as the BJP walked out in protest.
Picture credits: Nepal Khabar