Happy Holi 2020 Wishes Images, Greetings, Quotes, Status, Wallpapers & SMS In Hindi-English
Happy Holi Wishes 2020: Holi Status, Whatsapp Messages, Greetings & Images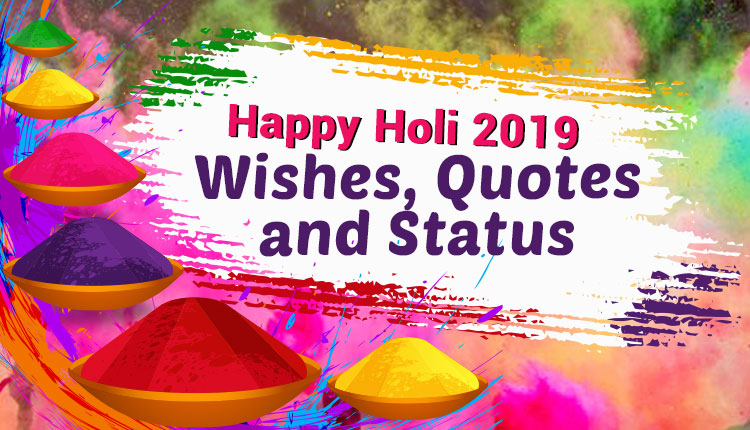 First of all, we wish you all a Happy and safe Holi. As we all are gearing up to celebrate the festival of colours we must need some words, messages, status, pictures, wallpapers or quotes to greet and wish our friends, family members and our beloved one. You don't need to worry about anything as we will be talking about everything from Holi Status, Wishes, GIF, Holi Wishes in Images and Greeting in this article.
Even if you are looking for Holi Wishes in different languages such as English, Hindi or Marathi we have all. Holi is believed to be two days long festival and it is widely celebrated across the country as per their tradition or culture. It is to be noted that after Diwali, Holi is the second largest festival for Hindus and they do not leave any stone unturned to make this festival memorable.
This year, Holi will be celebrated on March 10, 2020 (Tuesday). So without further ado let's take a look at Holi Greeting in English below:
Happy Holi 2020 Wishes Images, Greetings, Quotes, Status, Wallpapers & SMS
Holi Greeting in English:
Splash some Colour, Burst those water balloonsns, Make sure you have a Greet Holi This Year
May the God paint your life with the brightest colours that fill your life with love, laughter and more
Let colour fill your life with happiness, may you be filled with peace, Here is wishing you a colourful Holi
Life is full of colour, and on the occasion of this Holi, May even more colour be added to your life
May Almighty Sprinkle peace, Luck and success all the way for you. Happy Holi
Wish you and your loved ones a very Happy Holi
Let this Holi be the best day you ever had.
Have a wonderful Holi.
We wish your health, prosperity and business achievements at this prism colour eve. May Allah bless you with all his mercies! Aamin.
This is the time to develop understanding and love for each other. Here, is a platform for you all to renew your friendship and to express the heartiest love by scribbling a beautiful Holi message for loved ones.
Best Holi Wishes and Status in Hindi
1. प्यार के रंगों से भरो पिचकारी, स्नेह के रंगों से रंग दो दुनिया सारी, ये रंग न जाने न कोई जात न बोली, सबको हो मुबारक ये हैप्पी होली!
निकलो गलियों में बना के टोली, भीगा दो आज हर लड़की की चोली, मुस्करा दे तो उसे बाहों में भर लो.. वरना निकल लो कह के हैप्पी होली।
2. अर्ज़ है … सर में दर्द हो तो खा लो सिरदर्द की गोली… वाह …वाह .. सर में दर्द हो तो खा लो सिरदर्द की गोली .. वाह …वाह ..मुबारक हो आपको हैप्पी होली.. हैप्पी होली.
Best Holi Quotes 2020
1. इस बार होली ऐसी मनाऊँगा, खुद को करके काला पीला, तेरी गली पहुँच जाऊँगा.. तू सोचती रह जाएगी, और तेरे भाई के सामने तुझे रंग लगा जाऊँगा…. Happy holi
2. भगवान् करे हर साल चाँद बन के आये , दिन का उजाला बन के आए …कभी दूर ना हो आपके चेहरे से हँसी , ये होली का त्यौहार ऐसा मेहमान बन के आये Happy Holi
3. "Make merry with colors on Holi and the rest of the days with the colors of love."
4. "Celebrating the colours of our beautiful relationship, I wish you and your family, all the bright hues of life. Have a colourful holi!"
5. "Holi is the apt time to break the ice, renew relationships and link yourself with those that you wanted to with a bit of color."
Best Holi Greeting
"Holi is a special time of year to remember those who are close to our hearts with splashing colors!"
"Holi is the apt time to break the ice, renew relationships and link yourself with those that you wanted to with a bit of color."
"Holi is the day to express love with colors. It is a time to show affection. All the colors that are on you are of love."
"Dipped in hues of love and trust has come the festival of Holi."
"A true and caring relation doesn't have to speak loud, a soft message is just enough to express the
heartiest feelings. Enjoy the festival of Holi with a lot of fun."
"May God gift you all the colors of life, colors of joy, colors of happiness, colors of friendship, colors of love and all other colors you want to paint in your life. Happy Holi.
Best Holi Happer and Images