Happy Pongal 2020 Wishes, Images, Quotes Greetings & Messages to Wish Your Loved Ones
Here are some of the best Pongal wishes, quotes, Images, Greeting, WhatsApp and Facebook status to send your loved ones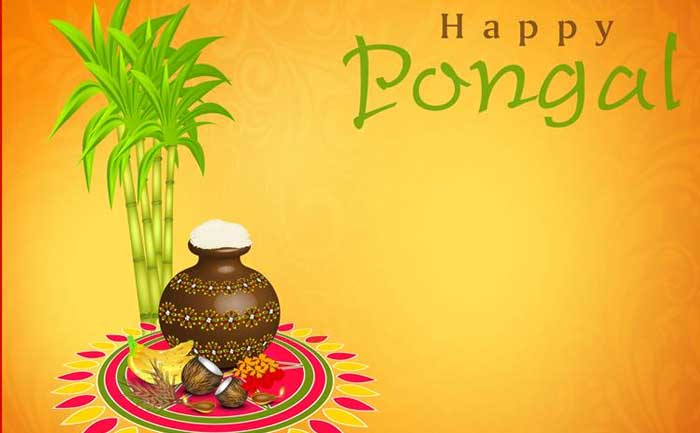 Pongal which is also referred to as Thai Pongal is usually celebrated on January 14 every year. The multi-day Hindi harvest festival of South India, Pongal, is mainly celebrated by Tamil community across the world.
Tamil community living across the world is celebrating Pongal 2020 today (January 14, 2020). The festival is dedicated to the Hindu sun god, called The Surya, and corresponds to Makar Sankranti,  the harvest festival under many regional names celebrated throughout India. Here's everything you should know about Pongal 2020.
In this article, we will talk about Pongal 2020 wishes, rangoli, greetings, dish, WhatsApp stickers and Facebook status. There are people who might find difficult to send Pongal 2020 wishes, images and greetings to their beloved one. Yes, there are thousands of people search on Google Pongal Wishes, Greetings and Images but they end up visiting some fraud websites.
Making it easier for our readers we have brought you some of the best Happy Pongal Wishes, Imagaes and Greetings to send your friends, family members and loved ones.
Happy Pongal Wishes
1. May the divine blessings of Surya reach your home. Wish you and your family a Happy Pongal 2020!
2. May the sweetness of gur, doodh and kaju bring a lot of happiness into your life. A very happy Pongal!
3. May the almighty bless you all with the best of health, wealth & prosperity. Wishing you & your loved ones a very Happy Pongal.
4. Wishing you a prosperous future and a happy Pongal!
5. Wishing that your stocks soar and the Lord's divine blessings always be upon you.
6. May the harvest festival guarantee you always have the best food and best life. Greetings on Pongal!
7. May good luck enter your home and success touch your feet. May happiness overflow on the auspicious occasion of Pongal.
8. Wishing you a long and happy life, prosperity, loving family and friends. May every dream of yours become reality.
9. Let us greet, meet, and eat together on this auspicious occasion with these beautiful decorations and kolams. Wish you a very Happy Pongal!
10. May this harvest festival reduce all your fears and failures from your life and fill your heart with calm and healthy thoughts. Happy and Prosperous Pongal 2020!
Happy Pongal Messages
Warm wishes on the auspicious occasion of Pongal,
May all your worries and fears diminish from your life and fill your heart with calm and healthy thoughts.
Happy Pongal
Show your gratitude to the almighty for every blessing you have in your life.
Happy Pongal!
Hope this pongal marks the start of a harvest season which is happy and successful for you in every way and brings with it prosperity, good luck and oments to cherish.
May your blessings be as plenty as the rice in the pot,
May your life be as sweet as the milk.
Wishing you happiness and prosperity on Pongal
Happy Pongal
I pray may the festival of harvest season be one that brings along with it all that's best and everything you deserve.
Have a memorable Pongal.
Happy Pongal Messages in Tamil
Anaivarukkum INIYA PONGAL NAL VAZHTHUKKAL
Pongal Thirunal Ulaga Thamilargalin ore Vizha
Uzhavargalin Unnatha Thirunall
Kadavulukku Nandri Therivittu Pongalai Kondadungal!
Udal Kalaipu
Udaluku Mattum
Manadhirku Endrum
Thevai Inippu
Ahdai Inaippadu
Thaan Pongalin Sirappu
Iniya Pongal Nalvazhthukkal!
Happy Pongal
Udal kalaipu udaluku mattum
Mandirku endrum thevai inipu
Adai inaipadu thaan pongalin sirapu
Iniya pongal nalvazhthukal
Iniya pongal nalvazhthukal
Thangalukku enadhu pongal nal vaalthukkal
Pongal Thirunaalum,
Thalaipongal Thirunalum,
Pongivarum pongal pola
Engum pongattum magizhchi
Iniya Pongal
That's all what you were looking for. We wish you a very Happy Pongal 2020!