Helen Mirren & Ian McKellan Step Out For 'The Good Liar' Premiere in NYC
The Good Liar will be releasing on November 15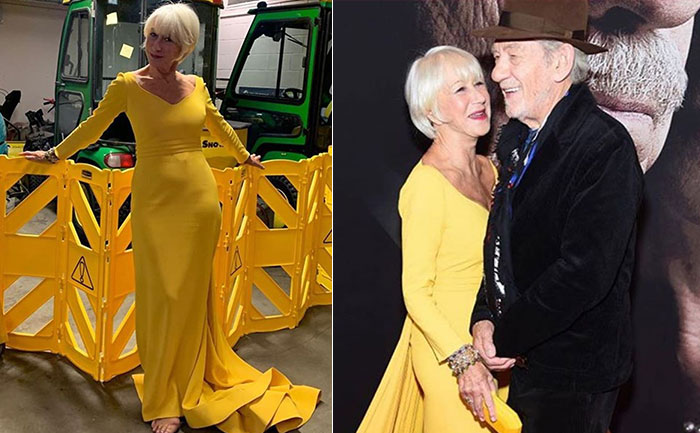 Helen Mirren and Ian McKellan attended the premiere of The Good Liar on Wednesday evening (November 6) in New York City. The actress livened things up in a bright yellow Brandon Maxwell dress while the 81-year-old actor chose a dapper black velvet suit for the premiere.
The Good Liar will be releasing on November 15. It follows the story of a con artist who meets a well-to-do widow online. The widow opens up her home and life to him. The con artists' perception changes slowly as he finds himself having feelings for her.
When questioned about why they have never worked together before The Good Liar, the two had their answers ready.
It's a very good point," Dame Helen, said. "I would ask the same question actually."
"You often don't work with people who you long to work with," Sir Ian, joined in, "who you know you get on with and act in the same way. We both have our background at the Royal Shakespeare Company and then we have both been lucky in movies as well, so you would think it would be natural."
Dame Helen goes on to add, "Life doesn't necessarily take you in that direction. But here we were very lucky that a brilliant director called Bill Condon thought it would be good to put us together and we both signed up with alacrity and with great pleasure. We've obviously known each other for a long time, we've done theatre together, we've led parallel lives."
Joining the duo on the red carpet were screenwriter Jeffrey Hatcher, producer Greg Yolen, and director Bill Condon.
ALSO READ: Once Upon A Time In Hollywood: Brad Pitt And Leonardo DiCaprio Pose For Photocall In London