Once Upon A Time In Hollywood: Brad Pitt and Leonardo DiCaprio Pose for photocall in London
Brad Pitt and Leonardo DiCaprio, Quentin Tarantino and Margot Robbie headed to London after the Once Upon A Time In Hollywood premiere in LA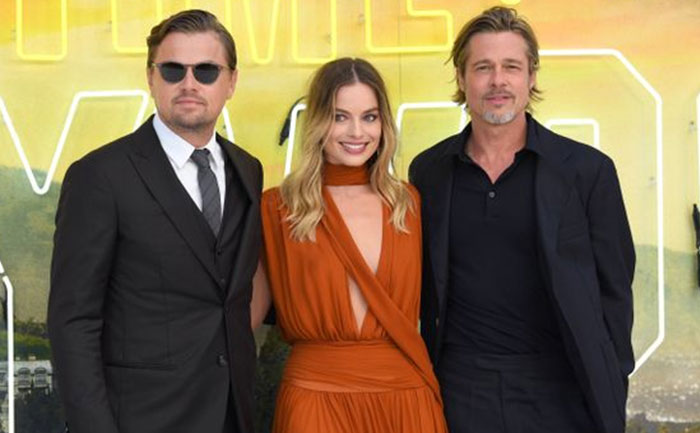 Leonardo DiCaprio and Brad Pitt will be seen together for the first time in Quentin Tarantino's comedy-drama film 'Once Upon A Time In Hollywood' produced by Columbia Pictures, Bona Film Group, Heyday Films, and Visions Romantica and distributed by Sony Pictures. The ninth film from the writer-director features a large ensemble cast and storylines in a tribute to final moments of Hollywood's golden age.
Once Upon a Time in Hollywood had its world premiere at the "Cannes Film Festival" on May 21, 2019, was theatrically released in the United States on July 26, 2019, and is scheduled to be released on August 14, 2019, in the United Kingdom.
After attending the LA premiere of Once Upon A Time In Hollywood, the team headed to London to walk the red carpet and showcase their film. After the movie screening Leonardo DiCaprio, Brad Pitt, Quentin Tarantino, and Margot Robbie posed in front of the London photocall.
Leonardo looked sharp in a grey sweatshirt which was paired with a black blazer, blue jeans, black sneakers, and black sunglasses. Brad looked handsome in a white sweatshirt which was paired with a beige blazer, cream pants, a matching trademark beret, shoes, and tinted black sunglasses.
Quentin kept it cool in an Aztec printed shirt with black pants and cream-coloured shoes along with tinted orange sunglasses. Margot looked gorgeous in a beige coloured shirt which was paired with white flared jeans and minimal gold hoop earrings.
ALSO READ: Once Upon A Time In Hollywood's New Poster Will Leave You Wanting For More