Here's Your Horoscope for December 18, 2019 (All Zodiac Signs)
Here's your horoscope for Today's (18th December) 2019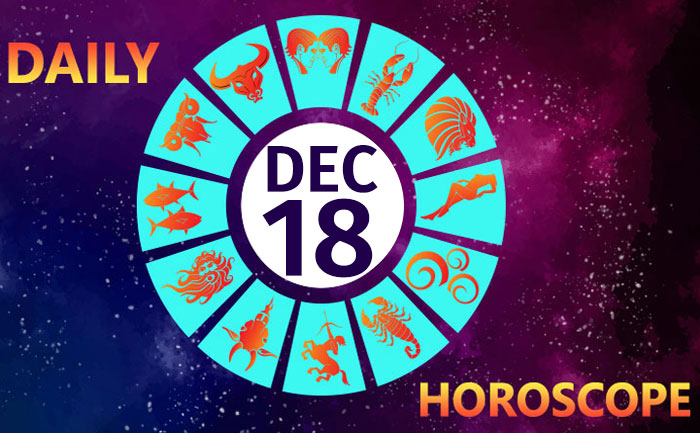 Today's Horoscope December 18, 2019: Know what astrology has to offer you today (December 18, 2019). Check Today's Horoscope to know what Stars Fortell about your Zodiac Sign. Here is the forecast for every sun sign for the day. Find out all about new opportunities, important relationships' motives and also know if today is' the day to take a chance on love.
Horoscope Today, December 18, 2019: Check Astrological Predictions for All Sun Signs
ARIES Daily Horoscope
There are two families in your life: the one that contains the people you're related to, and the one that includes the friends you choose to have in your life. It's time to get these two groups intermingled. Plan a dinner party or an informal cocktail get-together so that everyone you love can be in the same room at the same time. There will be no huge personality clashes—as a matter of fact, some interesting new relationships might be born. Wear something in yellow to attract positive luck
TAURUS Daily Horoscope
If you're planning a get-together with friends, try to plan it around a meal. There is nothing quite like socializing over food to get people laughing and feeling good about themselves. If the weather cooperates, an outdoor party or a barbecue could be the perfect way to encourage everyone to relax and be open to sharing themselves. Even a potluck dinner is a wonderful way to enable everyone to contribute to an event that is sure to be unforgettable. Wear something in brown to attract good luck.
GEMINI Daily Horoscope
Just because one of your friends is being tight with money right now doesn't mean that they aren't up for some serious fun! So do not make assumptions about what someone is willing to do socially—just toss out an invitation and see how they react. Consider a compromise, or at least try to book something in the future, when they will be feeling a bit more flush with cash. You might just have to work with them to make plans right now. Avoid wearing the color olive green today!
CANCER Daily Horoscope
As soon as you wake up in the morning, you'll feel full of good energy so good, in fact, that you must see it as a responsibility. What are you going to do with all of this can-do spirit? Even if you want to hang out on the couch all day, or just grab a quick nap in the afternoon, resist the urge! Your mental energy is still there even if your physical energy lags. You owe it to yourself today to get out there. Whether it's a social outing or just a walk around the block, go do something! Wearing something in blue is recommended for a good day ahead.
LEO Daily Horoscope
An unpredicted encounter with an old mate may start off a bit clumsy today, but their naturally warm personality will thaw whatever icy chill you were sensing. Your heart is open to new beginnings, and this might be the opportunity you have been waiting for. If the conversation goes well today, you should explore where it can lead tomorrow. Consider making some social plans. Getting back in touch with them could allow you to get back in touch with a part of yourself. Wearing something in dark red will bring you good luck today.
VIRGO Daily Horoscope
Wherever you spend most of your time today, you will find encouragement from the people you are surrounded by. At the office, coworkers are suddenly ready to help out on big projects or small. At school, the teachers are much more understanding and ready to help explain confusing ideas over and over again. At home, family members or roommates are taking care of the chores you hate most. You're energized by others, which will help you help even more people in turn. Wear something in blue to attract positive energy and luck
LIBRA Daily Horoscope
Consider teaming up to get where you want to go right now. Often, two heads are better than one, and you might need the friction of someone else's perspective in order to achieve that high polish on your ideas. Don't worry that collaboration will be a tangle of egos any initial friction you feel will soon fade into a sweet harmony of collaboration. It's good to be an independent traveler, but it is also very wise to be led along by others sometimes as long as they are going in the right direction. Wearing something in green will help you remain positive.
SCORPIO Daily Horoscope
More than any other day this week, today is a very good day to get what you want. Your charm and intellect are both at their highest peak, and you'll be able to negotiate like an expert. If you have been waiting to have 'that talk' with your boss, today it's time to ask for a meeting and then ask for a raise, more responsibilities or a decision on that question you asked them weeks ago. Push a little harder today you won't get dirty looks. You will get results. Wearing Royal Blue will prove to be lucky for you today.
SAGITTARIUS Daily Horoscope
Today, if you just follow your mood, you will be all right. Do not over-think things and do not try to change your mood—if you're feeling blue, you're feeling blue for a reason. And likewise, if you're ecstatically happy, you're ecstatically happy for a reason. Do not try to switch things around just to fit into the social situation more comfortably. Being comfortable is overrated anyway. And it's too exhausting to try to fight against perfectly normal emotions. Just go with it. Wearing yellow will prove to be lucky
CAPRICORN Daily Horoscope
A lot of new ideas will be suggested to you today, and your first instinct might be to push them all the way. They are too new for you to feel comfortable with them, and that's understandable but if you let your fears take over right now, you could regret it later. Step up and listen a little bit longer when someone explains what they were thinking. Give this a chance, and you'll see that you had nothing to be afraid of. They're willing to work with you on your terms what could be better than that? Wearing red will attract positive cosmic energy.
AQUARIUS Daily Horoscope
It might not be very easy to say something to a friend that you know you have been needing to say, but nothing worth doing is ever easy, is it? Find a place to talk where the two of you can be alone and won't be interrupted. It's not wise to have intimate conversations in loud or distracting places. Come to the point that you need to make as soon as you can—don't make them pull the information out of you. You owe them honesty, respect, and compassion. Wear jade green to attract positive cosmic energy.
PISCES Daily Horoscope
You have a big supply of strength hide deep down inside of you right now, and when you combine it with your imagination, there is nothing that can slow you down today. Today you will be able to entertain yourself, distract your mind, and give yourself an internal 'happy place' to go to. Honest comments from people you barely know will send you into fits of laughter. You are loving everything that your life is showing you. It's revealing new ideas and options. Lucky color for you today is green.
Our Horoscope Prediction about the future and how the stars may impact your life daily routine. Sun signs play an important role in our day to day life. Sometimes we go through the day easily but some days are too stressful. Here are some predictions for the day that will help you overcome the obstacles easily and also give you an inner insight on how to have a positive outlook.
ALSO READ: Weekly Horoscope December 15-21: Check Astrological Predictions For All Sun Signs