Hero Dog Returns to Duty after Baghdadi Raid in Syria
Hero Dog Conan who was wounded chasing al-Baghdadi is already back on the job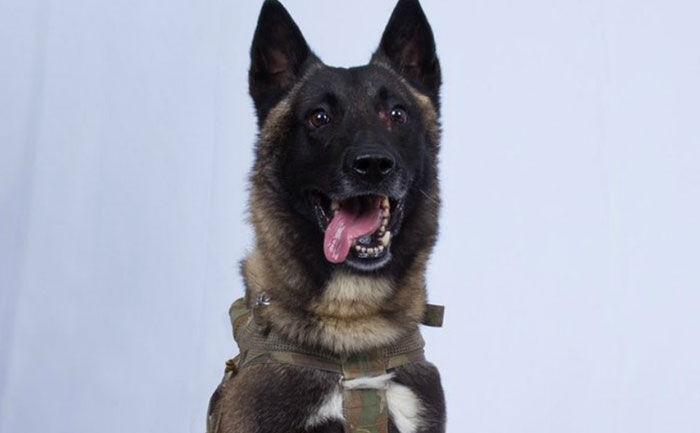 A US service dog was injured during the raid at the hideout of Abu Bakr al-Baghdadi in northwestern Syria. The US K9 squad commando was unleashed on Abu Bakr al-Baghdadi forcing him to blow himself at the end of a dark tunnel in Syria. He has recovered and returned to service once again.
After the US president tweeted a picture, the US media confirmed that the hero dog's name was Conan.
AMERICAN HERO! pic.twitter.com/XCCa2sGfsZ

— Donald J. Trump (@realDonaldTrump) October 30, 2019
Baghdadi's safe house in northwest Syria was stormed on Sunday by special forces along with military working dogs. They chased him as he tried to flee and finally cornered him in a tunnel beneath the building, where the dreaded terrorist leader blew himself in a dead-end tunnel during the raid.
Conan, the canine which forced IS chief to blow himself up, is a Belgian Malinois.
US Central Command Commander General Kenneth McKenzie said that the dog is a four-year veteran of the SOCOM Canine Program and has been a member of approximately 50 combat missions.
McKenzie said that US special operations command military working dogs are critical members of the US forces. These animals protect US forces, save civilian lives, separate combatants from noncombatants, and immobilize individuals who express hostile intent.
For the uninitiated, the Belgian Malinois is a special breed commonly used by the military and police. They are also referred to as "Maligators" due to their speed and strong jaw. Dogs like Conan are armed and prepared for battle with strong vests and training. They are even trained to leap out of planes along with human soldiers for insertions during secret missions.
Also Read: Donald Trump confirms death of Islamic State leader Abu Baghdadi