Donald Trump confirms death of Islamic State leader Abu Baghdadi
President Trump: ISIS leader Abu Bakr al-Baghdadi is dead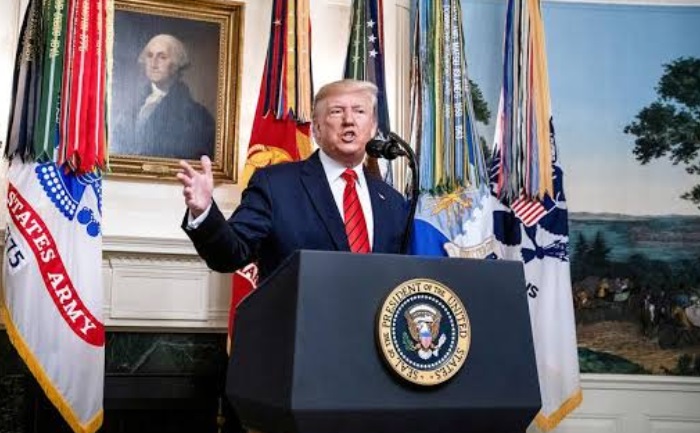 Donald Trump the President of the United States has confirmed on Sunday the death of Islamic State leader Abu Baghdadi. He was killed during a military operation in Syria's northwest Idlib province. The President said a US special operations forces mission went after the ISIS leader and there were no US deaths during the operation. Trump had watched the operation from the White House Situation Room.
Trump said the leader of the Islamic State of Iraq and the Levant (ISIL or ISIS) died after running into a dead-end tunnel in the village of Barisha. He ignited an explosive vest during the raid, killing himself along with three of his children. Several ISIS fighters and companions of Baghdadi were killed, including two women wearing suicide vests.
Check out Trump's speech from the White House's Diplomatic Room here:
BREAKING: Pres. Trump: "Last night the United States brought the world's #1 terrorist leader to justice. Abu Bakr al-Baghdadi is dead." https://t.co/ehdxGOZjCg pic.twitter.com/QnGgyx0LhD

— ABC News Politics (@ABCPolitics) October 27, 2019
In his speech, Trump said that "Baghdadi was a sick and depraved man, and now he's gone. He died like a dog, he died like a coward. Many of his companions were killed but Al-Baghdadi's 11 other children were uninjured and were left under the care of an unnamed third party. The US received immediate and positive identification on the body after an on-site DNA test, and that the world is now a much safer place."
He further added, "Al-Baghdadi spent his last moments in utter fear and claims that he was "whimpering" and died as "a coward, running and crying. He has also warned that al-Baghdadi's successors are now in US "sights".
The death of Baghdadi marks the culmination of a years-long hunt to find one of the most wanted terrorists in the world. The man who declared a so-called Islamic caliphate in Iraq and Syria in 2014.
Also Read: ISIS leader Abu Bakr al-Baghdadi believed to be killed in US military raid