History of J&K would have been different if Sardar Patel was in charge–says Jitendra Singh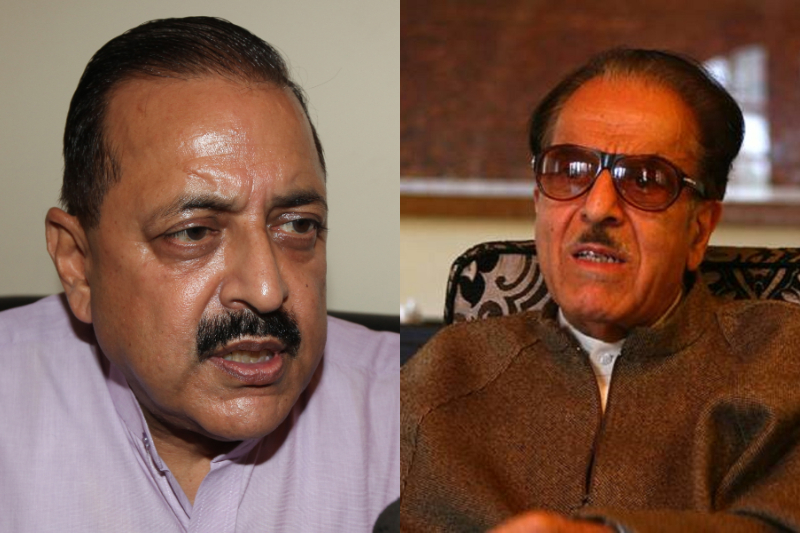 As Congress continues to blame BJP for the worsening problems in Jammu and Kashmir, Minister of State in PMO, Jitendra Singh on Wednesday said that the situation would have been different had former prime minister Jawahar Lal Nehru given a free hand to the then Home Minister Sardar Patel.
According to ANI,"If only PM Nehru would have allowed Home Minister Patel to handle J&K with a free hand in the same manner in which he was handling other princely states of India, I am sure the history of the Indian sub-continent would have been different, "Union Minister Jitendra Singh.
The fact of history is just the contrary. The truth is that Sardar Patel was kept out of the affairs of J&K, even though Patel was the Home Minister: Union Minister Jitendra Singh on Saifuddin Soz's remark on Sardar Patel pic.twitter.com/LpAezDply4

— ANI (@ANI) June 27, 2018
"Part of the J&K which today is under illegal occupation of Pakistan would've been a part of India. It's because Nehru believed that he knew Kashmir better than anyone else and therefore didn't even allow his Home Minister (Sardar Patel) to handle it the way he was handling the other states," Singh said.
The minister said that Nehru had a special bonding with the then J&K leader Sheikh Abdullah and the former was carried by the biases the latter was having towards the State of India.
"It is also because Nehru had a special affinity for Sheikh Abdullah & therefore he was carried by the biases he was carrying," Singh added.
Urging people to revisit history books, the minister said that "the fact of history is just the contrary."
"The truth is that Sardar Patel was kept out of the affairs of J&K even though he was the Home Minister," Jitendra Singh.
Singh said this while commenting on Congress leader Saifuddin Soz's recently launched book on Kashmir, which has triggered a fresh political controversy and evoked a sharp response from BJP and even his own party.
Saifuddin Soz had on Monday said that 'Azadi' is not possible in Kashmir and the only way forward is for all stakeholders to sit together and hold a vigorous dialogue to solve the problem.
Soz also blamed the media for "twisting" his statement on supporting Pervez Musharraf's proposal for giving autonomy to Kashmiris, which had invited sharp criticism from the BJP through the Congress had distanced itself from his comments.
(Also Read:Repeating emergency lessons wrapped in saffron paper, that's how NaMo lies on Black Day).
The Congress later termed his remarks as a "cheap gimmick" to promote his book, which was released on Monday.
He also claimed that Sardar Vallabhbhai Patel was ready to give Kashmir to Liaquat Ali Khan, Pakistan's first PM, as he was a pragmatic man and wanted to avoid a war with the neighbouring country.
He claimed that it was Lord Mountbatten and not Jawaharlal Nehru who took the Kashmir issue to the United Nations.
"Azaadi is not possible, but the Constitution of India should accommodate Kashmir," he said, adding that even Musharraf had told his generals and wanted autonomy on both sides of Kashmir.
"Shedding blood will not solve the Kashmir problem… You can go on killing Kashmiris. Kill them… But the problem will not be resolved," he said, asking "Did the Taliban get killed".
He was speaking at the launch of his book – "Kashmir-Glimpses of history and the story of struggle", where no Congress leader was present except former Union minister Jairam Ramesh.
While former prime minister Manmohan Singh, who was invited for the book launch did not turn up, former finance and home minister P Chidambaram, who was to launch the book and hold a discussion on the Kashmir issue, also skipped the event after the Congress snubbed Soz for his remarks.
Soz, however, repeatedly said at the book launch that it was his book and his party was not responsible for it.
"It is my book and I am responsible and my party, the Indian National Congress, has nothing to do with it. It is my book and I have narrated facts… I have done the research for this book and I have the confidence in me that these are well-researched facts and I am responsible for it," he said repeatedly.