Repeating emergency lessons wrapped in saffron paper, that's how NaMo lies on Black Day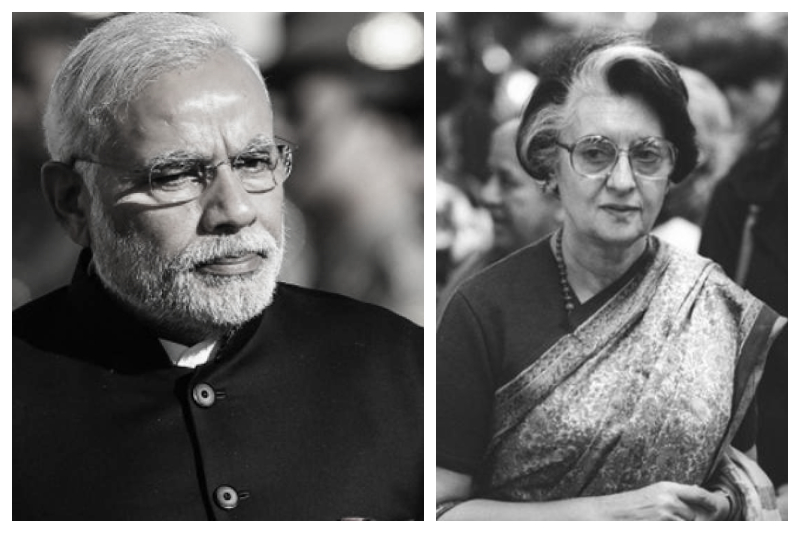 Bharatiya Janata party (BJP) is celebrating 'Black Day' today nationwide. 'Black Day' against emergency, imposed 43 years ago on this day by the Indira Gandhi-led Congress government. The saffron front is not only trying to defame the 'iron lady' for her 'sin', but in a way looking for a path to reach their destination of 2019 General Elections.
Taking the political torch in his own hands, Prime Minister Narendra Modi tried to make the fellow Indians aware about the condition of India during emergency, which he was not a part then. It may sound a little weird, but he was not part of 'Jan Sangh' prior to formation of BJP back in 1980s, though he might claim to be one someday, to his 'Mitron'.
How would you rate a television commercial which first competes with someone and then contradicts by applauding it? Sounds confusing right! Well this was the case today that took place in Mumbai, while NaMo gave his 40-minute speech. He spoke about Indira Gandhi and his successors' failures, but praised former Prime Minister Jawaharlal Nehru. However, the political face of BJP did not utter, even for single time, his favourite words – 'Acche din' or 'Vikas'.
Also Read: 'Hum-Tum' episode between PDP-BJP ends
Known for his great oratory skills, Modi's speech did sound interesting. No doubt at all. But naming the Congress leaders and the party multiple times, was NaMo defaming the Opposition or propagating the party? Remember our grandmother used to narrate the story of 'Sher Aa jayega' …(The tiger will come). In that story everyday a person used to announce that tiger will and people entered into their house in fear. But, one day the tiger came in reality and no one believed him. What happened, tiger came and took the child and left. Probably this is going to happen with the BJP leaders, including NaMo.
Youth awareness
The Premier in his 40-minute speech to the political leaders of BJP, RSS and VHP stated, that 'the national party is not observing black day (Emergency) just to criticise the Congress, but they want to make the youth of today aware of what happened' at that time. And yes Union HRD Minister Prakash Javdekar did say they are going to change the history lessons once again, by declaring that 'Emergency period is considered to be the second freedom struggle', soon after Modi's speech ended. Ohh really, as if youth do not study in India.
Not only this, Modi's speech had some insights, which might sound ironic. He said that 'the youth do not have any idea what happened in emergency and they will not know how living without freedom would be'. If this is the case, what would you call the situation in tribal belts of Chhattisgarh and Manipur and what would you call the youth of Kashmir, who do not enjoy the freedom! Who live in continuous fear!
Also Read: Modi: Congress gave impeachment notice against CJI
Emergency was a mistake and Congress had agreed to it. But, just by citing it numerous times, will it hide the demerits of your Union government, who failed to fulfill its poll promises made in 2014 General Elections? Where joblessness, poverty, farmers' suicide, brain drain, bank defrauds worth thousands of crores and price rise remain to disturb 1.25 billion people of India? Will your speech and narrating the 70 year old history change the present and future of this nation? Or is there no other thing left that you can talk about?
Remembering artists, journalists
People who know Kuldeep Nayar and Ramnath Goenka, they have a knowledge that these journalists were, are and will be respected as did not bow down during emergency. They did not stop unveiling the truth even in the time of crisis. But, why on earth NaMo spoke about them? Was he comparing 'Jan Sangh' leaders with these two fearless journalists, who were jailed during emergency? I agree that, former Prime Minister Atal Bihari Vajpayee was arrested along with others, but why his name was not mentioned in the speech then?
We all know Modi's fascination with Bollywood. He never misses a chance to be with Bollywood stars. Be it attending the wedding ceremony of Anushka Sharma or shaking hands with Salman Khan, Modi is at the limelight. In the same fashion, in his speech too, he brought the name of famous singer Kishore Kumar, who was debarred from performing in either AIR or his films were not allowed to broadcast anywhere, just because Kumar refused to sing for Congress.  Nice facts accumulation Mr. Modi.
Fear psychosis
Accusing Mrs Gandhi of being afraid, and due to which she imposed emergency, NaMo tried to rip off the present Congress alleging they are creating a fear psychosis among the Muslims and Dalits, that Jan Sangh, BJP and RSS would kill them. However, these type of propaganda do not work in a big country like this, added Modi.
So now, if this is the case where NaMo and his co think that Congress used as its propaganda for winning elections, then how different you and your party is? You promised to bring back black money, end corruption, create jobs, improve education and health, increase farmers' income, decrease inflation rate, etc..etc.. all before the General Elections 2014. Did any of the issue was solved? Not really. Petrol reached to Rs 75, Diesel to Rs 71, LPG to Rs 800, pulses to Rs 200 and many more are the facts, which define our basic necessity. Mr Modi you and your government failed to fulfill even to decrease the rate of daily used products. And this is the reality.
Also Read: Vijay Mallya undermines Enforcement Directorate orders, tries to mediate through PM
Aiming for 2019
With BJP celebrating the emergency as 'Black Day', they are eyeing on General Election 2019. The Prime Minister has lost the popularity, he enjoyed in 2014. Political allies have either sidelined or are in a process to do it. No concrete and substantial development work took place in the last four years and it would be way too much to expect that projects would be completed by March 2019, just before elections.
So what is left – attack on opposition by bringing back the history lessons or call them thugs, liars, looters and fraudsters. Though Modi tried his hard to nail the Congress, he looked like a nagging child, who was complaining to the youth about what Congress did 43 years ago. As 11 months are left for the General Elections, it would be interesting to see what BJP comes up next.