Holi 2021: 5 lip-smacking dishes to make your celebrations tastier
Holi is just around the corner. Here are 5 delicious food items you can relish this festive season.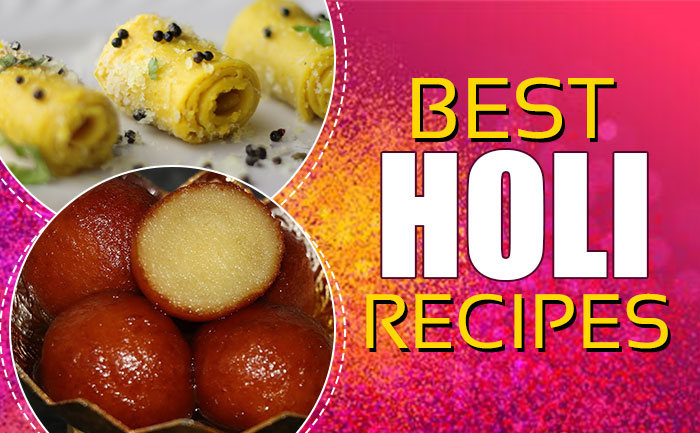 Holi is a popular ancient Hindu festival, also known as the festival of colors and it is just around the corner. This festival is a unique combination where one can have endless fun and eating. Holi is one of the most widely celebrated festivals in India and food plays an integral part.
The festival also celebrates the beginning of a good spring harvest season. It lasts for a night and a day, starting on the evening of the Purnima falling in the Hindu calendar month of Phalguna, which falls around the middle of March in the Gregorian calendar. The first evening is known as Holika Dahan (burning of demon Holika) or Chhoti Holi and the following day as Holi.
This year one of the most vibrant festivals of India will be celebrated on March 28, and March 29, 2021. However, there will not be any celebrations in public or private places as it is prohibited by the BMC due to the surge of Coronavirus cases. Without any further ado, here are some delicacies that you can enjoy and relish this festive season.
Holi 2021 recipes:
Puran Poli
How to make Puran:
Rinse the chana dal.
Add it to a pressure cooker, add water, and pressure cook it for about a minute.
Add jaggery, sugar, nutmeg, cardamom powder, dry ginger, and saffron to the lentils.
Mix well, and cook stirring frequently for 20 mins on medium heat.
How to make Poli:
Take maida in a bowl.
Knead the dough, till it is smooth and soft. Cover and keep aside the dough for 15 to 20 minutes.
Making Puran Poli:
Take a medium or large size ball from the dough and start making balls and the stuffing which should be of the same size.
Put the stuffing in the middle of the rolled dough and then gather all the sides of the dough on top of the stuffing to enclose it. Roll the pol using dry flour.
Heat tawa and cook the puran poli on both sides with lots of ghee.
Serve puran poli warm or at room temperature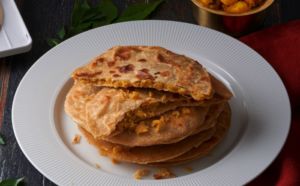 Malpua
Take some maida in a bowl and add sooji and powdered sugar to it.
Mix all these dry ingredients well. Then add water in the desired quantity to make a batter of smooth consistency.
Take three slices of white bread and crumble them in a food processor. Add this crumbled bread to the batter, mix well, and leave aside for 15 minutes to allow fermentation.
Meanwhile, prepare the sugar syrup. Take a broad base pan and add 1/4 cup water to it. Keep it on flame and add sugar to it and heat it for six to seven minutes to get a sugar syrup of flowing consistency.
Add saffron strands and crushed green cardamom to the syrup. Allow the syrup to cool down to room temperature.
Now, take a pan and heat three tablespoons of ghee in it. When it is hot, pour 1 big spoon of the batter into it.
Cook for 2-3 minutes on each side.
Serve hot malpuas garnished with pistachio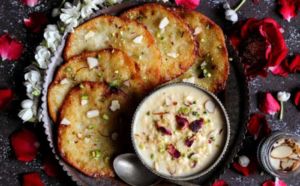 Rasmalai
Boil 2 liters of toned milk.
Add lemon juice and stir till the milk curdles completely.
Drain the curdled milk and squeeze off excess water.
Start to knead the paneer for 10 minutes.

Add saffron and cook on low heat till the milk is reduced to half.

Blend ¼ cup sugar and cashew nuts in a blender.

Add in the reduced milk.

Add rose water and cardamom powder and mix well.

Keep the reduced milk aside.

Remove the chenna from the cheesecloth.

Add cornflour and baking powder.

Knead the chenna with your palms for 6-8 minutes until it is creamy.

Make 12-14 equal size balls from the chenna.

Flatten the balls a little bit.

Heat 1 and ½ cup sugar and water in a pressure cooker. Later, add the chenna balls.

Put the lid with the whistle and cook on high heat for 2 whistles.

Remove the cooker from heat and let it cool down.

Open the cooker and take out the rasmalai gently and add in the reduced milk.

Make all the rasmalai.

Add 2-3 tbsp water every time before adding the balls to the cooker.

Refrigerate the rasmalai and garnish with dry fruit before serving.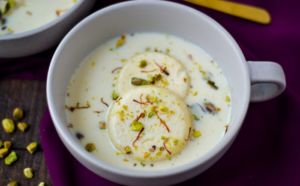 Thandai
Add almonds, cashews, melon seeds, cardamom seeds, fennel seeds, pistachios, poppy seeds, and black pepper.
Grind the soaked ingredients in a blender to make a smooth paste.
Add little milk if required.

To prepare thandai, take 3 tbsp prepared thandai masala paste and 2 tbsp sugar.

Add 1 cup chilled milk and blend well.

Transfer the thandai into the tall glass along with ice cubes and garnish with dry fruits and dried rose petals.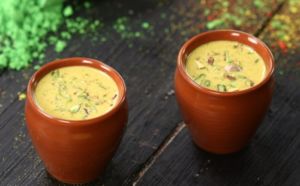 Phirni
Soak 2 tbsp of basmati rice for 30 minutes.
Remove the water and blend rice to a coarse paste. Keep aside.
In a large Kadai boil 1 liter of milk.
Stir occasionally, and simmer for 10 minutes.
Keep the flame on low or till the milk thickens.
Add in prepared coarse rice paste.
Stir for 5 minutes and simmer for another 5 minutes.
Boil the milk till the rice gets cooked completely.
Further, add ¼ cup of sugar and 2 tbsp saffron milk.
Mix well till the milk thickens and turns creamy.
Add in cardamom powder and mix well.
Finally, serve chilled phirni garnished with few chopped nuts.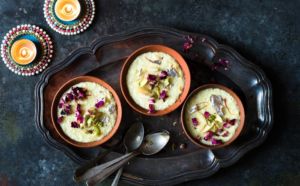 ALSO READ: Holi 2021 Date, Holika Dahan Date, Muhurta And Legends