Fortnite Holiday Tree Locations: Dance in front of Holiday Trees in Named Locations
Here's every Fortnite Holiday Tree location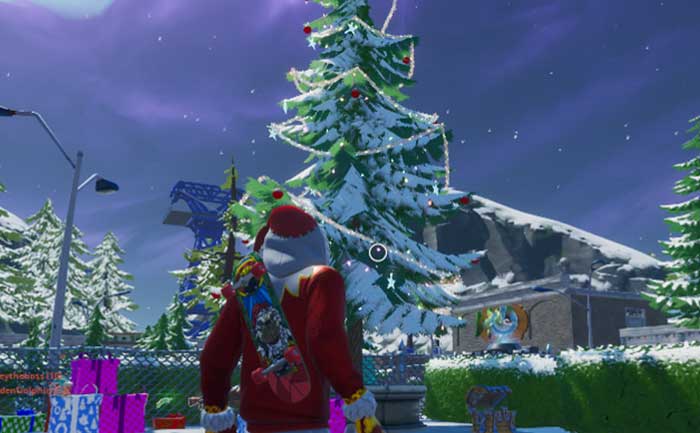 Fortnite is celebrating the holiday season in addition to a lot of video games this year. While there are a lot of expected cosmetics coming along with the holiday season, a multitude of challenges and events also accompany them. There are several Christmas trees placed around the major cities to mark the holiday season in Fortnite. If you're having trouble locating all the Christmas trees in the game, here is a list to ensure you have covered them all.
Every Holiday Tree Location In Fortnite
Here are all of the locations that have a holiday tree in Fortnite:
Holly Hedges
Lazy Lake
Misty Meadows
Pleasant Park
Salty Springs
Sweaty Sands
Slurpy Swamp
Retail Row
Since these trees are huge and have lavish holiday decorations on them, they will not be hard to spot near these locations. These Fornite holiday challenges and decorations will be available until Jan 7, 2020.
Dance in front of Holiday Trees in Named Locations
The Fortnite Winterfest challenge for today is to dance in front of Holiday trees in named locations. We have already listed all the locations where you can find a holiday tree in Fortnite. Now all you have to do is pick a location and then dance in front of the holiday tree. These do not need to be done in a particular order or in one go so you can take your own time finishing them. However, these areas are pretty packed right now as everyone is trying to get their challenges over with. Players will likely have to fight their way to dancing in front of the holiday trees at this point in time.
The holiday trees often have some chests, including a Star Wars chest that contains the much-anticipated Lightsabers.
ALSO READ: The 30 Best MMO And MMORPGs Every Game Lover Should Play In 2019-20