Masala Chai: How To Make Authentic Homemade Indian Masala Tea
Masala Chai: How To Make Special Homemade Masala Chai to drive away the chills this monsoon season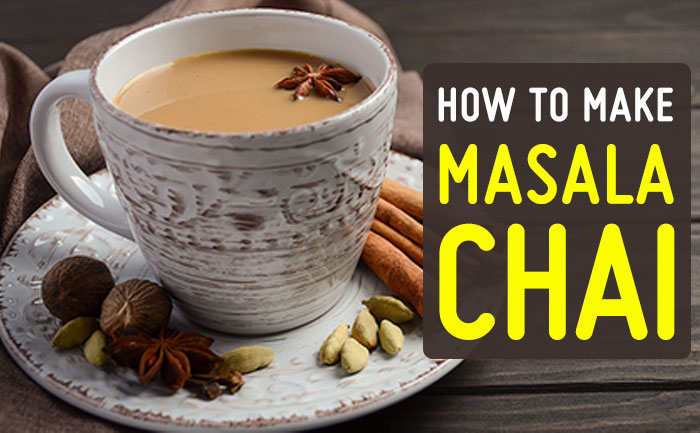 Chai or Tea is one of the most favoured Indian beverages. But one of the most popular and hot favourites is the Masala Chai. The recipe or preparation method for masala chai is not fixed, and many families have their own versions of the masala chai. Masala Chai is a national favourite in India. Almost every tea lover has a thing for this delicious chai. It is made by adding a number of spices to it.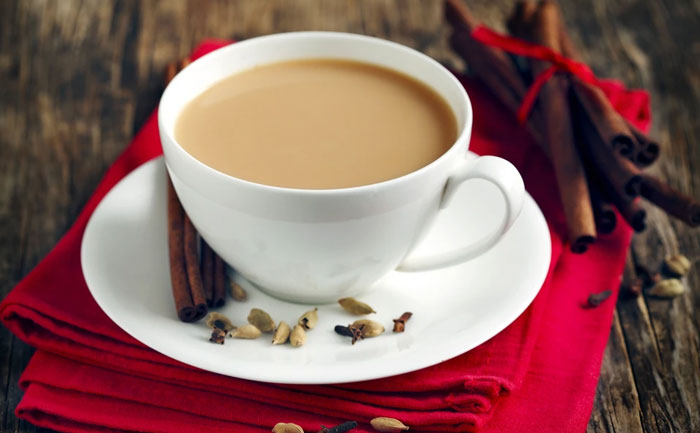 Traditionally, cardamom and ginger are the dominant notes in a masala chai, supplemented by other spices such as cloves, or black pepper. In Western India, cloves and black pepper are avoided, and lemongrass is included. The Kashmiri version of chai is brewed with green tea instead of black tea and has a more subtle blend of flavourings: almonds, cardamom, cinnamon, cloves, and sometimes saffron.
Other possible ingredients are nutmeg, mace, black cardamom, chilli, coriander, rose flavouring (where rose petals are boiled along with the loose-leaf tea), or liquorice root. A small amount of cumin is also preferred by some people. A less common addition to the spice is lemongrass, it gives an aromatic aroma and flavour.
Here is all you need to know about Masala Chai:
What is Chai Ka Masala?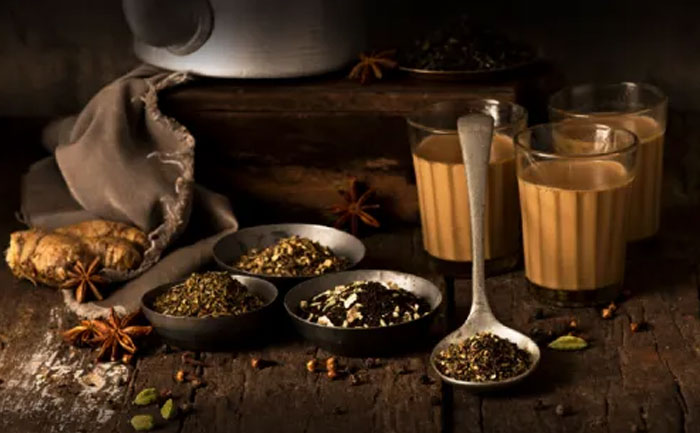 Chai ka Masala is a blend of whole spices, fennel seeds and ginger powder. The powdered form of this is added to tea while brewing as it adds a very unique flavour to the tea. The Masala Chai has many health benefits due to the spices in it. The recipe for masala chai is not fixed, each family has their own versions of the tea.
Chai Masala Common Ingredients: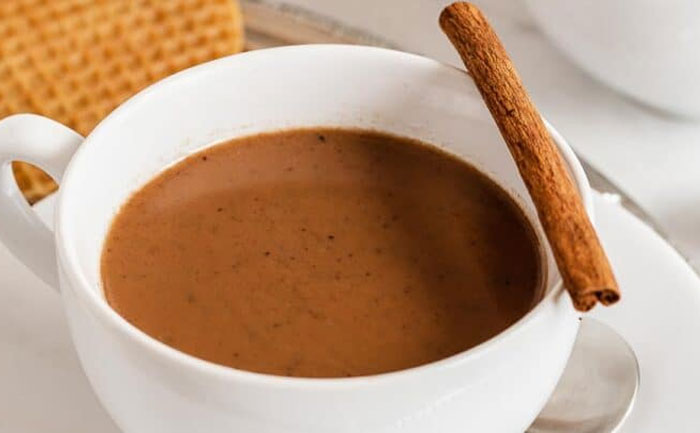 Cloves (Laung): Cloves have antioxidants and anti-inflammatory properties.
Green Cardamom (Elaichi): Cardamom has antioxidants and cancer-fighting compounds.
Black Peppercorns (Kali Mirch): Black peppers have anti-inflammatory properties, helps with digestion.
Fennel seeds (Saunf): Fennel also helps with healthy digestion.
Cinnamon (Dalchini): Cinnamon lowers the risk of diabetes, regulates blood sugar.
Dried Ginger Powder (Sonth): Ginger improves digestion and boosts immunity against flu & cold.
Nutmeg (Jaiphal): Nutmeg has the ability to relieve pain, improve indigestion and blood circulation.
You can also add Rose Petals or tulsi (holy basil) to the chai masala.
Chai Masala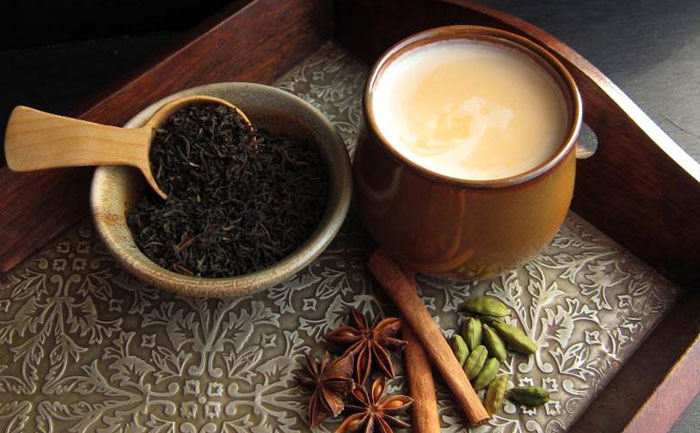 Ingredients:
40 grams cardamom
20 grams cloves
20 grams pepper
8 grams cinnamon
10 grams fennel / saunf
30 grams dry ginger
6 tulsi seeds
½ nutmeg / jaiphal
Method
Take a heavy-bottomed pan add 40 grams cardamom, 20 grams cloves, 20 grams pepper, 8 grams cinnamon and 10 grams fennel.
Dry roast on low flame until it turns aromatic. keep aside.
Add 30 grams of dry ginger and break into pieces.
Dry roast until it turns aromatic. keep aside.
Next Add 6 tulsi seeds, ½ nutmeg and roast well.
Cool the roasted whole masala.
Grind them in a blender coarsely and store them in an airtight jar.
There are many ways to make a masala chai. We share a few recipes here:
A) Masala Chai: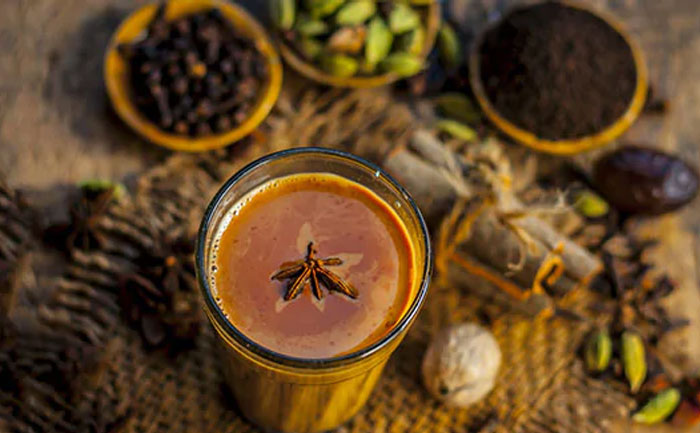 Ingredients 
5 green cardamom
1 cinnamon
4 teaspoon sugar
1 cup milk
1 black pepper
4 clove
2 teaspoon tea
1 teaspoon dried ginger powder
1/2 tablespoon green tea leaves
Method
Take whole spices and grind them to a fine powder.
Boil water with tea leaves and masala
Let the tea steep well.
Mix sugar and boil again

for 4-5 minutes.

Add dry ginger and simmer for 2-3 minutes
Boil with dry ginger powder and milk
Once done, strain into cups.
Serve Hot
B) Masala Chai: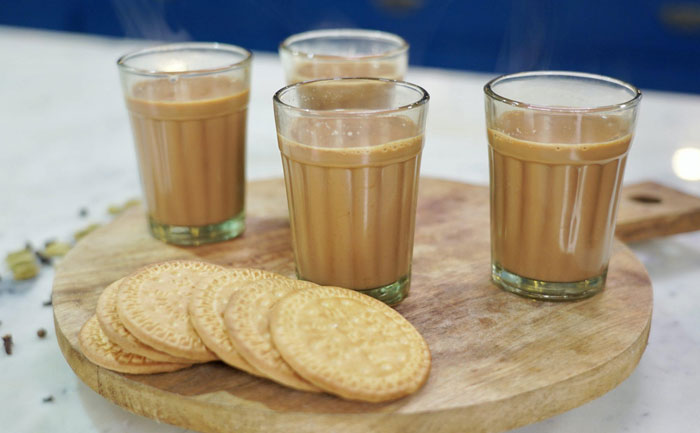 Ingredients
1 ½ cups water
(1/2 inch) piece fresh ginger, chopped
4 whole cloves
½ cinnamon stick
5 pods green cardamom pods, crushed
1 pod black cardamom, split open
2 black tea bags
⅔ cup milk
2 tablespoons white sugar
Method:
Bring water to a boil in a small pot.
Add ginger, cloves, cinnamon stick, green cardamom, and black cardamom
Simmer until flavours infuse, about 5 minutes.
Add tea bags; simmer for 1 to 2 minutes.
Add milk and sugar; bring back to a boil.
Serve Hot.
 C) Masala Chai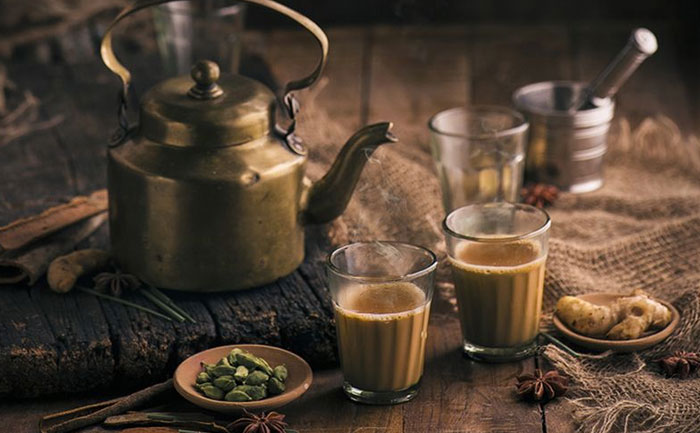 Ingredients:
2 cup water
4 tsp tea powder
½ tsp chai masala (prepared)
1 cup milk
2 tsp sugar
Method:
Take a saucepan add 2 cups water, 4 tsp tea powder and ½ tsp chai masala.
Boil for 4 minutes
Add 1 cup milk, 2 tsp sugar and boil
Strain the masala tea and serve hot.
Hope you enjoy this warm Masala Chai recipe this monsoon season. 
Also Read:  How To Make Burnt Garlic Mushroom Fried Rice Recipe