How to make restaurant style Pizza at home: Step-by-step guide
If you are an absolute Pizza lover, then you would know how Pizza cravings are. Here check out how to make restaurant style delicious Pizza at home with easy and simple steps. Know about interesting tips to enhance the taste of the Pizza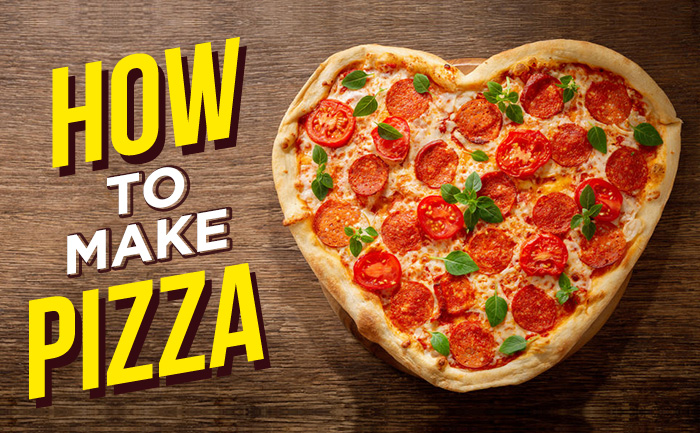 A true Pizza lover would know the value of eating freshly cooked Pizza, which is just taken out of the oven. That which has melted cheese and crunchy toppings spread all over the dish. Mention about the spicy hot Pizza and some people can't control their cravings. Well, nothing can beat that feeling of treating yourself with this heavenly meal, these are just made to make your mouth watery. How does a perfect Pizza looks like? The one with the soft base, crunchy edges, fresh ingredients, balanced ratio of sauces, tomatoes, cheese, including other toppings and off course the one which is cooked perfectly. Having many such preferences, it is extremely difficult to find a restaurant that makes Pizza to fulfills all your choices. No matter what expensive restaurant you order from, some things always seem to remain missing and that irks. If we can't compromise with the taste of our Pizza, then only option that we have is making it by our self and mastering the art at home. Here in this article we take you through a step-by-step guide on how to make Pizza in restaurant style. Check out ultimate tips to make a perfect dough and use the  sauce, toppings correctly.
How to make restaurant style Pizza at home:
Ingredients For Pizza Dough:
Cooking spray or Oil
1 1/4 cup lukewarm Water
1 tbsp granulated Sugar
1 (1/4-oz) packet active Dry Yeast (2¼ tsp.)
3 cup all-purpose Flour
2 tsp Salt
1/4 cup extra-virgin Olive oil
Ingredients For Pizza Toppings:
Extra-virgin Olive oil
1/4 cup Cornmeal
1 cup Marinara Sauce
16 oz.

fresh Mozzarella( thinly sliced)

Fresh Basil leaves
Pinch Red Pepper flakes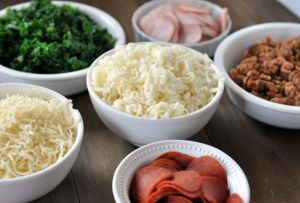 Pizza Recipe:
Take a small vessel, add one cup water and 1 tbsp sugar in it. Mix it well and let the sugar dissolve. Then sprinkle the dry yeast in the vessel and mix well. Let the mixture wait for 8-10 mins
Now take a big bowl and add flour, salt as per taste, little amount of oil and mix them well
Next pour in the yeast mixture in the flour and combine everything nicely. Make a thick dough, which should be soft in texture. Add water frequently if needed. Once the dough is ready, cover the bowl with clothe and keep it for resting (around 30 mins to 60 mins)
After the dough is fully rested, divide it into pieces according to the size of the pizza you want to make. Turn these pieces into round smooth balls. With the help of your hands or a chapati roller make a thick base. You can use cornmeal to avoid the base sticking. Now transfer this base onto the cooking tray
You need to pre-heat the oven to 500° before cooking your Pizza
Brush off the cornmeal from the base and grease it well with olive oil
Then transfer 1/2 cup sauce on top of the Pizza base and spread it evenly with the help of a spoon. Next transfer the mozzarella slices to the base. Then you can add other toppings such as Black Olives, Crisp Capsicum, Paneer, Mushroom, Golden Corn, Fresh Tomato, Jalapeno, Red Pepper and Baby corn
Once you complete adding all the topping to the base, put the Pizza into the oven. Bake it until the crust is golden and the cheese is melty. Pizza takes around 15-20 mins to cook
Once the Pizza is ready, take it out of the oven and garnish it with some fresh basil leaves and more cheese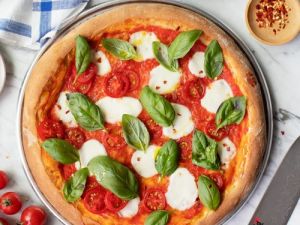 Tips to make perfect Pizza base:
Slowly proof your dough in the refrigerator, when you keep it for resting
Don't stretch the cold dough, let it first turn to room temperature and then start making balls
Use the right flour for your Pizza
Don't over knead the dough, doing this removes the moisture and turns your base dry
Prep your workspace with olive oil to avoid sticking
Press well the dough before turning it into the base by stretching method
After you stretch the dough, make sure to press little in the middle as well leaving the one inch edge. With your fingers make space for the toppings
If you cook Pizza very often, then get yourself the Pizza stone. This absorbs the moistures correctly, not making the Pizza too dry nor too moisty
Don't add more water to make your Pizza dough, instead use your hands to turn them soft and stretchy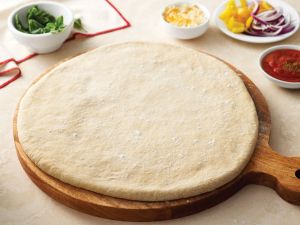 Tips to use Pizza sauce:
Know well your Pizza sauce before spreading it into the base
A not so tasty sauce can spoil your Pizza as well as your mood, thus always taste it before using
Pizza sauces are generally uncooked and they are little spicy. Choose the one that suits you well
If your sauce is too spicy, don't use toppings that include spices
Leave little space of base while you spread the sauce. This will allow Pizza borders to turn crunchy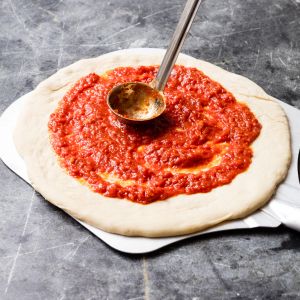 Tips to use Pizza toppings:
Make sure to use fresh ingredients for toppings
Always wash the vegetables or fruits that you use for toppings
Cut all the topping in similar size pieces and keep them handy
Always spread the tomato sauce first on base, then add cheese and lastly add toppings on the Pizza
Make sure to use enough toppings of different types, this will enhance the taste
Make sure to always arrange the toppings evenly sauce
You can top of with grated cheese and bake in a hot oven
While baking the Pizza always check toppings condition, don't let them turn burnt or overly melted. Crunchy toppings are fun to eat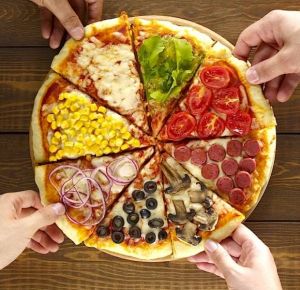 For more such updates, stay hooked on to The Live Mirror.
Also Read: How To Use Eggs: Scrambled Egg To Korean Rolls- Five Delicious Recipes