How To Use Eggs: Scrambled Egg To Korean Rolls- Five Delicious Recipes
If eating plain egg is boring for you, then don't fail out to check these five interesting egg recipes. Step-by-step guide on how to make soft creamy scrambled egg to Korean style egg rolls and Indian style egg biryani. The recipe makes delicious egg treats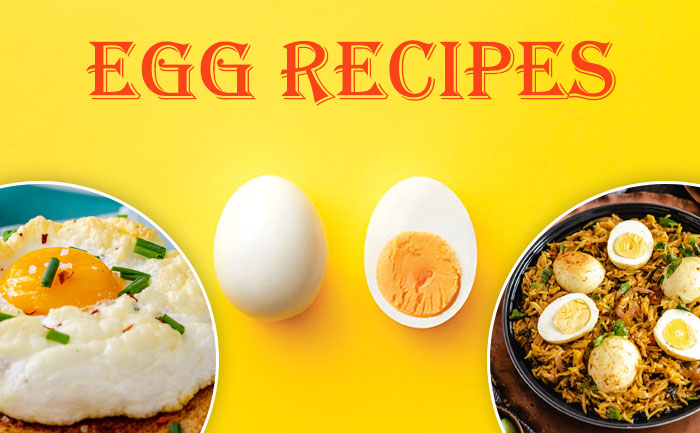 Call them eggetarian or non-vegetarian, people have been eating chicken eggs for thousand of years. There is also a science backed saying that eating 1-2 eggs every alternate day is good for health. Eggs have some valuable vitamins and minerals that complete our daily need of nutrients. Boil it, make an omelette or try as different recipes, including eggs in your daily diet is crucial, especially when you indulge in doing lot of physical activities. Growing children also need to eat eggs in order to get required nutritional support in their growing years. If eating plain egg is a boring task for you, then here are five interesting egg recipes that will instantly make you fall in love with eggs. From soft creamy scrambled egg to Korean style egg roll and Indian egg biryani, check out the recipes.
Five delicious and attractive Egg recipes:
Soft Creamy Scrambled Egg
Ingredients:
1 teaspoon unsalted butter
2 large eggs
1/4 teaspoon freshly ground black pepper
1/8 teaspoon salt
Procedure: 
Break 2 eggs in a small bowl and use the fork to beat it. Make it soft in texture by beating constantly for 5-6 mins
Now take a pan and keep it on flame. Add Butter to the non-stick pan and wait until the butter melts completely
Add pepper and salt into softened egg, the quantity is as per the taste. Once the butter in pan starts making little bubbles, pour in the egg mixture in pan
Keep separating egg with spoon or fork. The beaten egg mixture will form a fluffy curd like appearance on the pan. (Tip: make sure to beat the egg nicely, so the scrambled will form a good texture and shape)
Let it cook for 4-5 mins on the pan. Once you feel the scrambled egg is ready to serve, you can garnish with chopped coriander leaves, chopped onions, green pepper, lemon slice, chopped tomatoes or any other herb. Eat it in warm condition.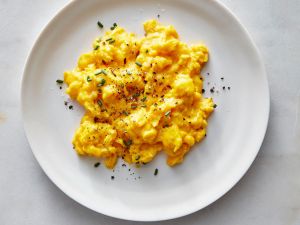 Cloud Egg Recipe
Ingredients:
4 

eggs

4 

slices of bread/ toasted

1 tablespoon 

olive oil

Salt and pepper as per taste

Chives (optional)

Chili Flakes (optional)
Procedure
Take two bowls and start breaking all the four eggs. Separate the white part from the egg yolks. Make sure you don't break the egg yolks (yellow part) or spoil its shape
Now add chilli flakes, chopped chives (only if you eat) to the egg whites and mix them nicely
Next whip the whites until they are stiff. The texture of the egg white changes its texture and becomes soft- fluffy. Whip is for about 5-10 mins with the help of electric or normal whipper
With the help of a spoon, take small chunks of whipped egg whites and place it on the cooking tray. Make them look like the clouds
With the help of a spoon make space in the center of whipped egg white. Now carefully take the egg yolk from the  other bowl and place it in the center of the cloud egg.
Once you finish the egg white mixture, bake them at 350 degrees for 7-8 minutes.
The cloud eggs will turn golden brown, once they are cooked
Take them out of the oven and serve with a toast or bread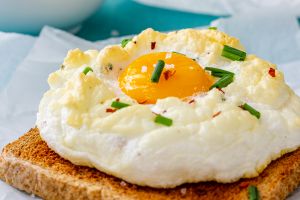 Egg Maggi
Ingredients:
4

 

pack

 

Maggi

1

 

cup

 

Onion

chopped

1

 

cup

 

Tomato

 

chopped

1

 

pinch

 

Cumin seeds

1

 

tbsp

 

Green chili

 

chopped

1

 

tsp

 

Salt

1

 

tsp

 

Kashmiri Red Chili Powder

1

 

tsp

 

Turmeric Powder

1

 

tsp

 

Coriander Powder

1

 

tbsp

 

Coriander leaves

chopped

1

 

tbsp

 

Maggi Masala

2-3

 

cup

 

Water

1

 

tbsp

 

Oil

2

Egg

 boiled
For garnishing:
1

Egg

1

 

tbsp

 

Oil

1

 

pinch

 

Salt
Procedure: 
Firstly chop onions, tomatoes, green chillies and let them rest in a plate
Take out the Maggi from its packet and add to the boiling water on the flame. Don't add the masala to the boiling Maggi as yet
Take a separate vessel and boil two eggs for 10-15 mins. Once done, peel it and keep the boiled eggs separately
Now take a pan, put it on the flame and crack one egg. This is for garnishing. Make an omelette, you can add salt and pepper as per your taste to this omelette
Next up take a frying pan and add butter or oil (1-2 tbsp)
Add a small spoon of cumin seeds, let it flutter for few seconds
Now add copped onions and let it change its color. Once the onions turn soft pink or light brown, add chopped green chillies (you can use red chillies as well). Let the mixture fry for few mins
Now add chopped tomatoes to the pan and mix it well over medium flame. Let the tomato cook well with onion and green chillies
Now add dry spices such as red chilli powder (only for color), turmeric powder, coriander powder and salt as per taste
Let the mixture cook for few mins. Once it starts loosing the oil, add water for gravy. Use water as per the quantity of Maggi
Once the mixture starts boiling, add the Maggi masala which comes with the packet
Let the water boil and keep stirring occasionally. Once the Maggi gravy turns thick, turn off the flame. Add chopped coriander leaves and mix well
Now take out the peeled eggs which you kept separately. Cut down the boiled eggs into small pieces. Add these pieces to the Maggi gravy and mix well.
Now to garnish the Maggi recipe, take out the plain omelette that you made already and place it over the egg Maggi. You can garnish it with chopped onions, coriander leaves or other herbs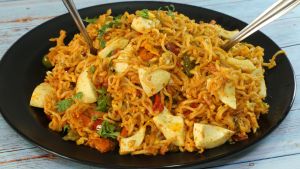 Korean Egg Roll:
Ingredients:
7 Eggs
1 Cucumber
1 Carrot
1 Bunch green onion
1 Pinch salt
Black pepper
Procedure: 
Chop carrots, cucumber and green onions into extremely small pieces
Take a big size bowl and break the eggs. Mix them well
Now add the chopped vegetables to the bowl
Add salt and black pepper as per taste
Keep a non-stick pan to flame and let it heat nicely
Now add little butter or vegetable oil, let the butter/oil release bubbles
Pour little egg mixture onto the heated pan. Spread the mixture all throughout the pan with the help of a spoon
Switch the flame to medium level and turn the cooked egg into a roll with the help of a rice spoon or spatula
Let the roll cook on one side of the pan. Add little more egg mixture to the pan and let it cook. Now add this cooked egg to the previous egg roll
Repeat the process until you completely use egg mixture
Once the egg roll turns thick, let is cook for few more mins and then turn off the flame
Let the egg roll turn little cool, then you can cut it into pieces. You can serve the dish with a soup, tomato sauce or any other sauce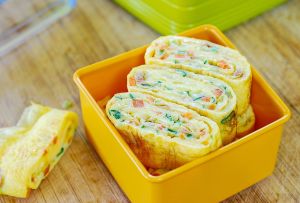 Egg Biryani
Ingredients: 
2 Cups Basmati rice, soaked
6 Large Eggs
1 Onion, sliced
10 Green chillies (slit)
1 Bay leaf
4 Cloves
1/2 tsp Peppercorns
1 inch Cinnamon
1 tsp Ginger and garlic paste
1 tsp Pulao masala
2 tbsp Oil
Salt
Procedure:
Firstly boil the eggs in a vessel for 10-12 mins. Once they are cooked, turn the flame off and peel the eggs
Now wash the rice and keep it in the water for few mins
Take a big size pressure cooker and keep it on flame. Add oil (3-4 tbsp), once the oil gets heated add all the whole spices(cinnamon, peppercorns, cloves, bay leaf). Let the spices flutter and change its color
Now add chopped onions, green chillies, ginger garlic paste to the spices. Add these ingredients one-by-one and keep stirring
Fry the spices nicely and let them turn brown
Now drain the water from the rice. Pour in the rice to the frying spices. Mix it nicely. Turn the flame to medium speed
Now add salt as per the taste and mix again
Add boiled eggs to the rice and pour in four cups of water
Mix it well, if needed you can add little red chilly powder (Kashmiri chilli powder is suggested for great color  and taste)
Now cover the pressure cooker and take two whistles
After the cooker takes two whistles, turn the flame off. Let the pressure come out from cooker and wait until it cools
Once the cooker it cooled down, uncover it and mix the rice well.
Now put a pan on flame and crack one egg. Add salt and black pepper as per taste
Take this omelette and garnish the Egg Biryani serving
Lastly you can garnish the dish with chopped coriander leaves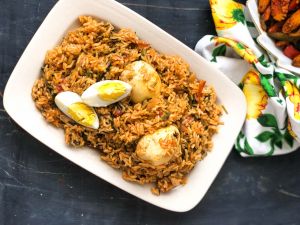 For more such  updates, stay hooked on to The Live Mirror.
Also Read: How To Make Cheesecake: Step-By-Step Guide To Make Delicious Treat At Home