Hrithik Roshan to reunite with blue-hued alien Jadoo in Krrish 4?
Hrithik Roshan hints at the return of Jaadu in Krrish 4, we hope it's true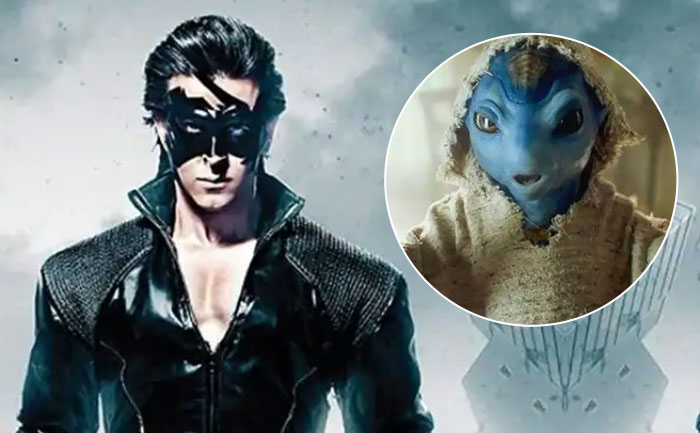 Rumour has it that Hrithik Roshan is all set to reunite with his Blue hued alien Jadoo for 'Krrish 4'. Yes, it seems like Hrithik Roshan and the makers of his successful superhero franchise have locked in on this idea for the fourth installment of the film. Jaadu has been one of Hindi cinema's most loved characters for much over a decade. Everything about the character has been so endearing that it has been loved by kids, adults as well as the old.
The superstar sent his fans in a tizzy when he hinted at the idea recently by replying to a tweet on Twitter.
Recently Bangalore witnessed a loud unnatural sound that created panic among the residents. One of the Twitter users asked Hrithik if he called aliens again on Earth by mistake. The Super 30 star soon replied saying, "Wasn't a mistake. It's time." The cryptic tweet left his fans wondering whether the beloved character of Jaadu is set to return in the next installment?
Hrithik soon shared another cryptic message with a tabloid on the same speculation. Though it did not confirm anything but gave fire to the speculations. He shared, "Yes, the world can do with some Jaadu now ".
If this news is true, then it's going to be a big treat for all the fans of Koi… Mil Gaya and Krrish. The Hrithik Roshan starrer, Krrish franchise has always been one of the most anticipated movies as it is India's biggest and only successful superhero film.
We are eager to see the return of the caped crusader and his friendly alien Jadoo soon.
Also Read: Sussanne Khan has THIS to say on living with ex-husband Hrithik Roshan