Hugh Jackman sends powerful message to schoolboy bullied
Hugh Jackman and Mark Hamill back bullied schoolboy with dwarfism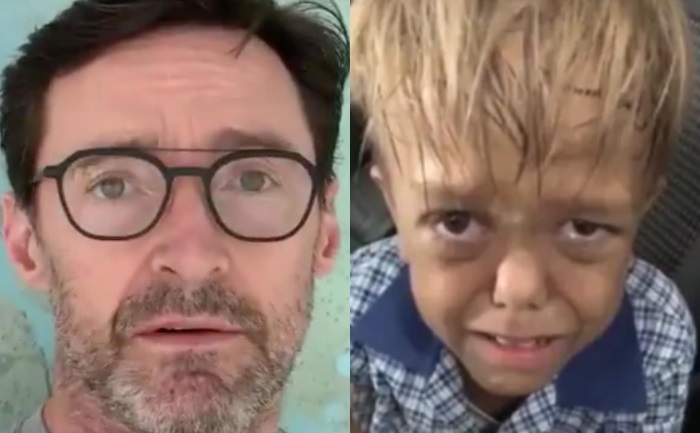 Heartbreaking footage of Australian schoolboy Quaden Bayles was posted to Facebook by his mum Yarraka, who has said that her nine-year-old son has become suicidal over the taunting. In the video, Quaden, who was born with achondroplasia dwarfism, is seen in the back of his mum's car moments after an incident of bullying.
9 year old wanting to commit suicide due to being bullied. ???? pic.twitter.com/DysTrmlaiD

— YouDontNeedToKnowMyName (@S11E11B11A) February 20, 2020
The video showcases Quaden Bayles profusely crying and asking for a knife so that he could stab himself to the heart after being bullied due to his dwarfism. "This is the impact bullying has on a 9-year-old kid that just wants to go to school, get an education and have fun.," his mom said in the background.
The video soon went viral and the boy who is being bullied at school now has Wolverine and Luke Skywalker at his back. Yes Wolverine star Hugh Jackman sent a powerful message to the boy, letting the Australian boy know that he's his friend.
Quaden – you've got a friend in me. #BeKind @LokelaniHiga https://t.co/8dr3j2z8Sy pic.twitter.com/jyqtZYC953

— Hugh Jackman (@RealHughJackman) February 20, 2020
Many other Hollywood stars lend their support to the Australian Boy. A crowdfund is raising thousands of dollars to send him to Disneyland. Comedian Brad Williams, who also has Achondroplasia, decided to raise $10,000 in order to send both Quaden and his mother to Disneyland Resort in California. He has raised over $130k, according to his attest tweet.
Tonight, the schoolboy will walk out hand-in-hand NRL captain Joel Thompson when the Indigenous All Stars team run out onto the field at Robina Stadium.
Also Read: Hugh Jackman reignites Internet feud with Ryan Reynolds …