Hurricane Laura: Category 4 Hurricane Kills 4; Extensive Property Damage
4 Killed After Category 4 Hurricane Laura Strikes Louisiana; Extensive Property Damage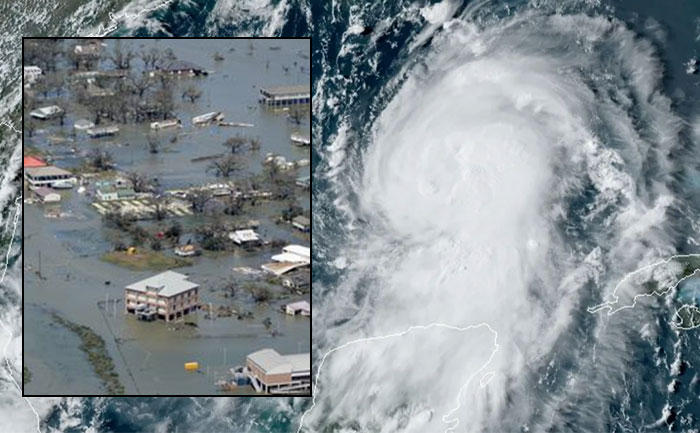 Hurricane Laura a Category 4 hurricane ripped through Louisiana as it made landfall with a wind speed of 150 miles per hour. Hurricane Laura made landfall near Cameron in Louisiana on Thursday. It brought "catastrophic storm surge, extreme winds and flash flooding" that killed at least four and also caused extensive damage to property and snapped electricity supply.
Storm Surge Live From Golden Nugget Casino from
#ChrisJacksonSC #HurricaneLaura https://t.co/iZLmnw0QQJ

— Lane Roberts (@lane2u) August 27, 2020
The storm barreled over Lake Charles, Louisiana, an industrial and casino city of 80,000 people. Louisiana Gov. John Bel Edwards urged residents to stay inside, close their doors and turn off air conditioning units as authorities battled a reported chemical fire just west of Lake Charles.
My God. This is what happens when storms like #HurricaneLaura pummel through petrochemical industry hot-spots. This is the double-whammy of #ClimateCrisis for communities that live near hazardous facilities – the pollution and the storm. Those in Lake Charles, LA please be safe. https://t.co/TnL4V6VEaK

— Adrien Salazar (@adrien4ej) August 27, 2020
At least four deaths have been linked to the storm in Louisiana, Governor John Bel Edwards said Thursday. All of the victims died when trees fell on their homes. One victim was a 14-year-old girl. The other three are a 68-year-old man a 51-year-old man and a 64-year-old woman.
JUST IN: New video shows the third floor devastation of a Motel 6 in Lake Charles, #Louisiana. #HurricaneLaura #Laura

We're tracking the tropics LIVE this morning: https://t.co/uxh5s1UZxB pic.twitter.com/8HaVqn32Ic

— Kelly Anne Beile (@KellyAnneTV) August 27, 2020
At least 671,307 residents in Louisiana and Texas were left without power as of Thursday afternoon. The storm has weakened to a Category 1 storm, with maximum sustained winds of 85 mph, according to the National Hurricane Center.
The first responders and all those who live in the path of #HurricaneLaura are in our prayers. ❤️ https://t.co/e56GB5RPQU

— Ivanka Trump (@IvankaTrump) August 26, 2020
But the weather services warned that damaging winds and flooding rainfall are still spreading inland over western and central Louisiana. Also "life-threatening storm surge continues along much of the Louisiana coastline.
Also Read: United States: Hurricane Hanna Roars Ashore In Coronavirus-Hit Texas