In a first, radio tags for Shimla trees to curb illegal felling
In a novel environment protection effort, the Himachal Pradesh high court has ordered Shimla civic authorities to tag each tree under its jurisdiction with a radio frequency identification tag (RFID) to stop illegal felling and help the popular tourist destination retain its fame as the most densely forested town in India.
RFID tag will now be mandatory for trees standing both on government and private land, the HC said. It ordered the municipal authorities to utilise World Bank funds for tagging trees standing on public land while directing recovery of RFID cost for trees on private land from owners. This order could serve as a model for other states to preserve forest cover from the prowling land mafia.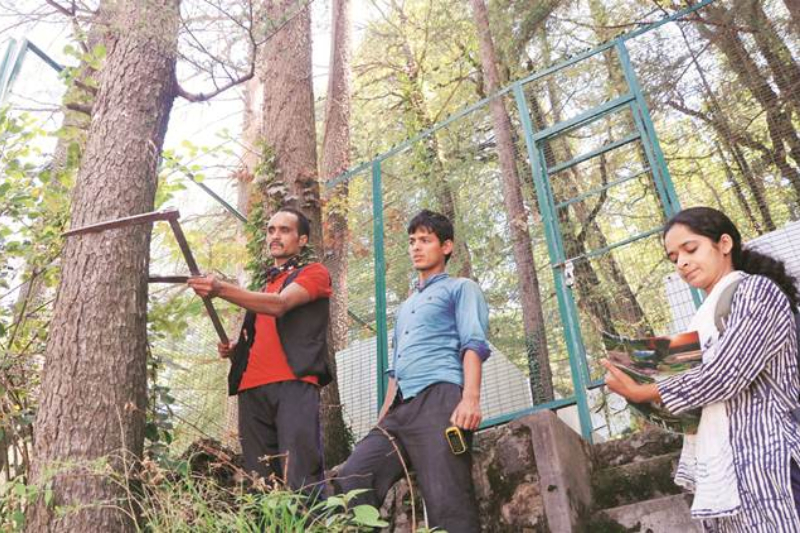 A bench of acting chief justice Sanjay Karol and justice A M Goel this week took cognizance of amicus curiae Devan K Khanna's submission on the 'brutal' modus operandi of land mafia and builders to clear forests for construction purposes. "First, a tree is dried up by pouring acid in its roots and then felled, either by obtaining sanction in accordance with law for felling of dried trees or by adopting illegal means, more so during monsoon winter season, so as to make it appears that the tree died because of natural calamity," the HC said.
"The purpose is not to gain monetary benefits out of timber from trees but to raise construction over the land cleared of trees," the bench said, citing the spiralling cost of land within Shimla municipal limits. It also noted that repeated directions to protect trees have fallen on deaf ears.
(Also Read: Water supply back to normal in Shimla, tourist footfall looks up).
Referring to lack of enthusiasm among departments to protect trees, the bench said: "We are of considered opinion that the state municipal corporation of Shimla must ensure that every tree, be of whatever species, falling within municipal limits, apart from being numbered, must be tagged with the RFID tag."
"We are informed that procurement of such tags is no longer an issue, for they are readily available in the market. Once these radio frequency tags are implanted inside a tree, data with regard to their growth or felling can be made available," it said. Apart from RFID tags for trees, the bench ordered the state chief secretary to implement the court's order for numbering all trees on government and private land, tag them with RFID and map forest cover as well as growth of concrete structures in the town by "using drone satellite and associating department of environment, science and technology". It sought a compliance affidavit by November 14.
The bench in its order noted: "Shimla town has maximum coverage of forest area. In fact, no other town or city of India has a greater number of trees of Deodar species, which takes more than 100 years to grow and mature as a full tree. The adverse effect of the felling of trees results in landslides, change of temperature climate and otherwise adversely affects the ecology and growth of biodiversity."