India, Maldives sign four agreements to strengthen bilateral relationship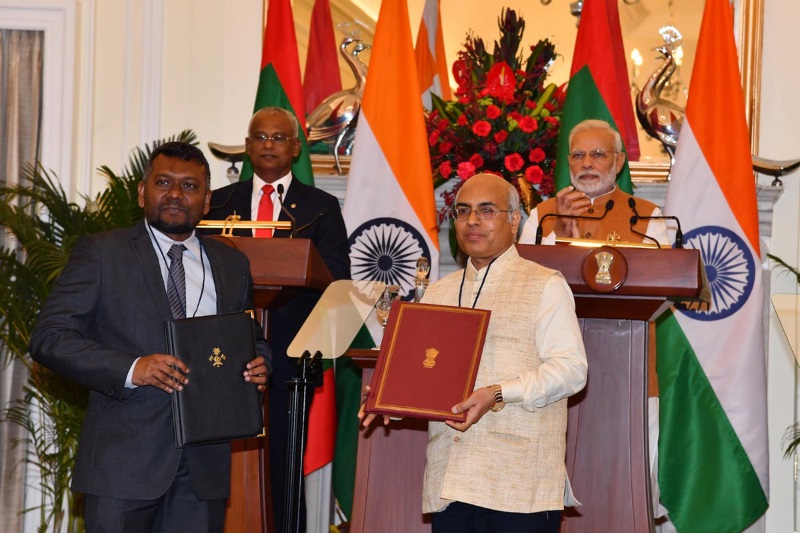 Taking a step ahead to strengthen the bilateral relationship between India and Maldives, the two countries on Monday signed four agreements on various fields in New Delhi.
The four agreements that were signed between India and Maldives are Agreement on the Facilitation of Visa Arrangements, Memorandum of Understanding on Cultural Cooperation, Memorandum of Understanding for Establishing Mutual Cooperation to Improve the Ecosystem for Agribusiness and Joint Declaration of Intent on Cooperation in the field of Information & Communications Technology and Electronics.
In a press statement, Prime Minister Narendra Modi also informed that India will extend 1.4 billion dollars financial assistance to the Maldives. PM Modi said, "President Solih and I agree that to maintain peace and security in the Indian Ocean region, we need to deepen our cooperation."
"Both India and the Maldives share equal interest and stake in the development and stability of our region," he added. Stating that the security interests of the two countries are related to each other, the Prime Minister said that there is also unanimity on the sustainability of this region and to be conscious of each other's interests and concerns.
He further said, "We will not allow the use of our countries to harm each other." On the occasion, PM Modi also called for boosting commercial relations and bilateral trade. "I welcome the growing opportunities for investment by Indian companies in the Maldives," he concluded.
On his part, Maldives President Solih said that during the discussions, both sides reaffirmed their commitment to democracy. "We agreed on the mutual need for regional stability and security in the Indian Ocean," he said. The Maldives President also said that both sides discussed cooperation in health, education and commerce among other areas.
It is to be noted that Solih arrived in New Delhi on Sunday on a three-day visit to India, his first foreign visit since assuming office on November 17.
In a tweet, External Affairs Spokesperson Raveesh Kumar said, "Welcoming a special friend. President @ibusolih of #Maldives receives the ceremonial reception @rashtrapatibhvn forecourt in the presence of #PresidentKovind and PM @narendramodi #NeighbourhoodFirst."
"PM @narendramodi warmly received President @ibusolih ahead of delegation level talks. During his visit to the Maldives for the President's inauguration in November, PM had extended an invitation to President Solih to make a State Visit to India," he tweeted.
Earlier in the day, External Affairs Minister Sushma Swaraj called on Maldives President Solih and held a productive discussion on all aspects of bilateral ties including development cooperation, human resource development and people-to-people exchanges.
Also Read: PM Modi spent nearly 2010 crore on foreign trips and advertisements