India-New Zealand Match: Rain halts the match but not the meme lords
The match has been brought to a halt due to heavy rainfall at Trent Bridge, Nottingham.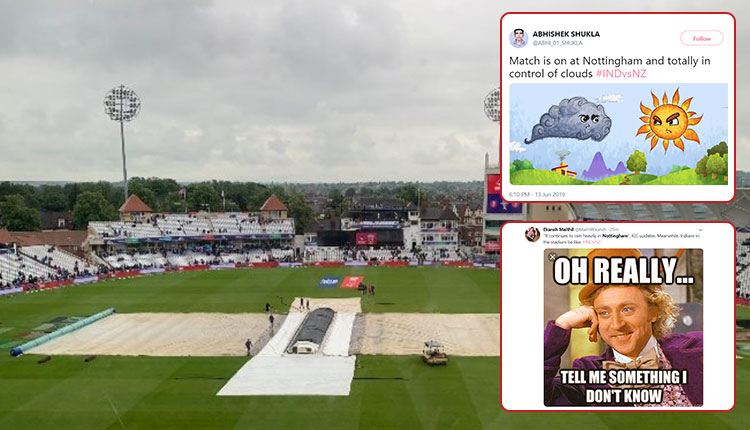 Today's World Cup match was between India and New Zealand at Trent Bridge, Nottingham but the toss has been delayed due to heavy rain in Nottingham. This is India's first match against New Zealand in the World Cup campaign. Prior to today's match of India vs New Zealand, earlier three matches have been canceled due to rain. This is indeed a record in the history of the 50-over match. ICC said that they do not have any reserves days this year in the World Cup but earlier there used to be. The delay in the match has made fans angry and frustrated but our meme lords have come up with their creative memes and it will lighten up your mood for sure.
Have a look at the memes on Nottingham rain.
#INDvNZ #Nottingham #TrentBridge
Send some rain to India let them play cricket 😜 pic.twitter.com/uziumESm5w

— Karthik (@Karthik56298574) June 13, 2019
"It continues to rain heavily in Nottingham", ICC updates. Meanwhile, Indians in the stadium be like; #INDvNZ pic.twitter.com/Y0J33u0KkV

— Ekansh Maithil (@MaithilEkansh) June 13, 2019
Why don't they make terrace over there? England needs it more than Australia! #IndiaVSNewZEaland #Nottingham #INDvsNZ

— Rupesh Dhiman (@RupeshDhiman6) June 13, 2019
Whatsapp 🙂 #INDvNZ #Nottingham pic.twitter.com/qgpsYVD0HK

— Abhishek Joshi (@kaalicharan) June 13, 2019
Match is on at Nottingham and totally in control of clouds #INDvsNZ pic.twitter.com/Lj9xn2kiX4

— ABHISHEK SHUKLA (@ABHI_01_SHUKLA) June 13, 2019
@imVkohli @BCCI @ICC @cricketworldcup #CWC19 #INDvNZ
Me : How many hours will it rain in Trent Bridge, Nottingham today ?
Virat Kohli : pic.twitter.com/kfJmOdvodT

— Akshaya Krishna K (@_akshayakrishna) June 13, 2019
Someone please ask her to go to Nottingham.#INDvNZ #CWC19 pic.twitter.com/A6EwzL5Wo1

— ChandraCSK4699 (@satyamkumar767) June 13, 2019
**LIVE** images from Nottingham. @ICC @BCCI #INDvsNZ #INDvsPAK pic.twitter.com/PIeunsGQhG

— Amarjeet (@cricamarjeet) June 13, 2019
Indra Dev, As Soon As Someone Removes The Covers In Nottingham #INDvNZ pic.twitter.com/jaFyrCvdvi

— RITESH KUMAR (@webpatrakar) June 13, 2019
As per the latest update, while looking at the current conditions, the chance of the match is very weak due to incessant rain.
We will keep you updated on the same, till then stay tuned to our space.
Also Read: India Vs New Zealand Live Cricket Score, Toss Delayed Due To Rain In Nottingham