India successfully test-fires DRDO's 'Rudram' Anti-Radiation Missile
India successfully test-fires Rudram Anti-Radiation Missile, Rajnath Singh congratulates DRDO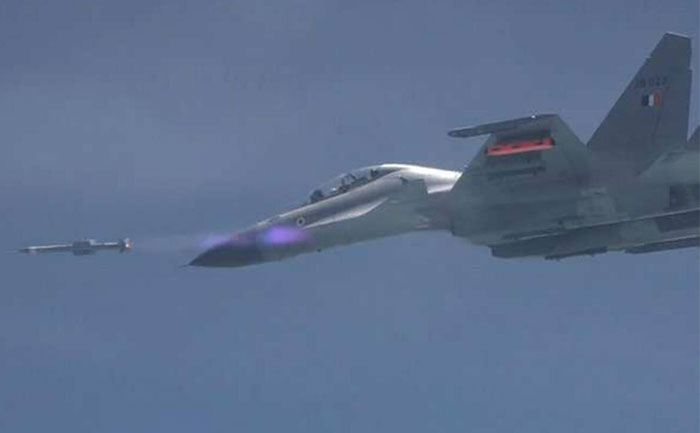 India has successfully test-fired Rudram Anti-Radiation Missile from a Sukhoi-30 fighter aircraft. It was tested at Balasore, off the coast of Odisha, at 10.30 am. The Missile has been developed by the Defence Research and Development Organisation (DRDO). It can be launched by the Indian Air Force on its fighter jets to destroy enemy radars.
Defence Minister Rajnath Singh congratulated DRDO for its achievement. Check out his tweet here:
The New Generation Anti-Radiation Missile (Rudram-1) which is India's first indigenous anti-radiation missile developed by @DRDO_India for Indian Air Force was tested successfully today at ITR,Balasore. Congratulations to DRDO & other stakeholders for this remarkable achievement.

— Rajnath Singh (@rajnathsingh) October 9, 2020
The first of its kind missile can be integrated on Su-30MKI fighter aircraft. It can be launched from a height ranging from 500 metres to 15 km. The missile can hit radiation-emitting targets within a range of 250 km. The tactical, air-to-surface anti-radiation missile is equipped with a passive homing head. It can track sources of radiation of a wide range of frequencies. It can also lock into a target not only before launch but also after launch.
The single-stage missile weighs 140 kg and is powered by a dual-pulsed solid rocket motor. It uses a pre-fragmented warhead with an optical proximity fuze.
The testing of indigenous missiles amid the India China tension is proof that government will not remain silent if China demonstrates aggression along the LAC.
Also Read: Amid Standoff With China, Indian Army Moves Tanks Near LAC