Indian Railways gets first engine with aerodynamic and ergonomic design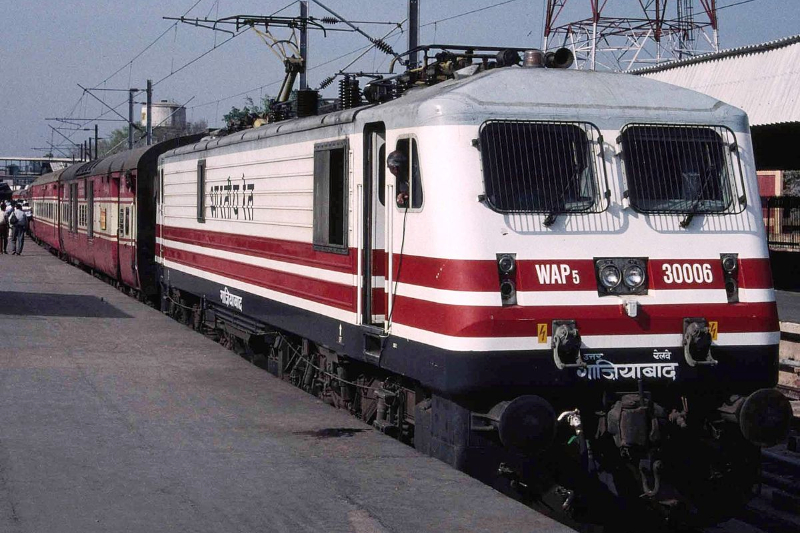 On Monday, Indian Railways got its first engine with the aerodynamic and ergonomic design. The engine has been produced by Chittaranjan Locomotive Works (CLW) and will be used to haul trains like Rajdhani Express, Gatiman Express, and Shatabdi Express.
Railway Ministry said, "With a speed potential of 200 kilometers per hours, this WAP-5 loco is energy efficient and stable for high-speed operation."
Meanwhile, the Chittaranjan Locomotive Works said, "CLW has turned out the first aerodynamically designed high-speed WAP-5 passenger electric locomotive on October 24. The engine's design reduces air drag to provide higher speed and more energy efficiency."
The Chittaranjan Locomotive Works further stated that the new locomotive is dynamically stable for high-speed operation. "The locomotive features an ergonomically re-modified driver desk to provide better facilities to the loco pilots. The CLW has modified the gear arrangements for hauling the locomotive at the top speed of 200 kmph," it added.
मेक इन इंडिया के तहत पहला स्वदेशी एयरोडायनेमिक रेल इंजन जो 200 किलोमीटर प्रतिघंटे की रफ्तार पाने में सक्षम है बन कर तैयार है। आज महान स्वतंत्रता सेनानी देशबंधु जी के जन्मदिन पर मुझे बताते हुए बेहद हर्ष हो रहा है की इसका निर्माण चितरंजन लोकोमोटिव वर्क्स, पश्चिम बंगाल में हुआ है। pic.twitter.com/NXw2fiMQwe

— Piyush Goyal (@PiyushGoyal) November 5, 2018
The WAP-5 variant, with 5,400 HP of power, is energy efficient and stable for high-speed operations. It has also been provided with Crew Voice and Video Recording System (CVVRS) for onboard driving data recording and analysis.
Cameras with microphones have been installed at the critical positions inside and outside the locomotive to record the voice and audio signals for post-event analysis with data storing facilities.
Also Read: Indian Railways to paint coaches in beige, brown; revamp exteriors