Indian Rupee slips into coma, Country in economic turmoil: Yashwant Sinha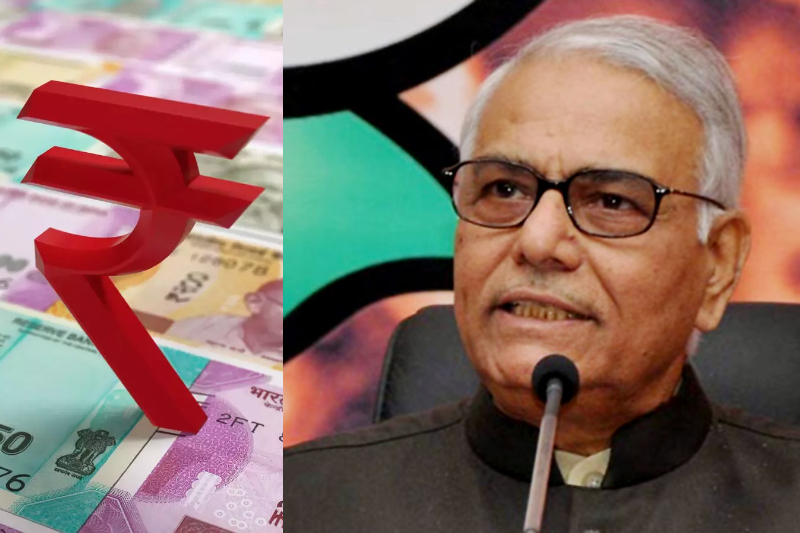 Former BJP leader Yashwant Sinha on Tuesday took a dig at Modi government saying that, Economic turmoil in the country has slipped the Indian rupee into a coma. He explained, "When Narendra Modi was Gujarat Chief Minister he had said that, the Indian rupee was in ICU, when its value was Rs 60 against US dollar, now it has gone to Rs 75, what can be said? it is in a coma now."
On the Rashtra Manch platform which was formed earlier this year, besides Sinha, the stage also witnessed Shatrughan Sinha, Samajwadi Party legislator Ghanshyam Tiwari, Former Gujarat CM Sureshchandra Mehta and Praveensinh Jadeja.
This was not the first time when Sinha attacked the BJP government. He expressed his concern over the attacks on migrant workers in Gujarat saying, "I am not pointing fingers at anybody but the safety and security of its citizens is the state government's responsibility."
Sinha had earlier said, "The current situation is such that a citizen cannot express himself against the government. If he or she does, they are labelled anti-nationals. Which is entirely against the fundamentals of democracy."
Attacking on controversial Rafale deal, Sinha quoted by IANS as saying, "We (Myself, Prashant Bhushan and Arun Shourie) have filed a petition to the Central Bureau of Investigation (CBI) regarding the Rafale deal, which is a huge scam by the NDA government."
Sinha also held Prime Minister Narendra Modi responsible for all these. He asserted even a PM cannot violate the Defence Procurement Procedure, but that was violated by him. If this shoddy deal is exposed by the investigation agency CBI, many skeletons will tumble out.
Sinha said they would wait for a CBI response for around a month. "After that, we will decide our further course of action, whether to approach the judiciary or not."
Sinha had earlier called prevalent atmosphere in the country 'far worse' than the period of Emergency, imposed by the then Congress government between 1975 and 1977.
Shatrughan Sinha said, "Today everybody is asking me why am I speaking against my own party? My answer is no individual is bigger than the party and no party is bigger than the country. What I am saying is in the interest of the country."
Also read: Yashwant Sinha: Current atmosphere is worse than Emergency