Indonesia: Massive Fire Engulfs Balongan Oil Refinery, 1,000 Evacuated
Fire Engulfs Indonesian Balongan Oil Refinery, Over 1,000 Residents Evacuated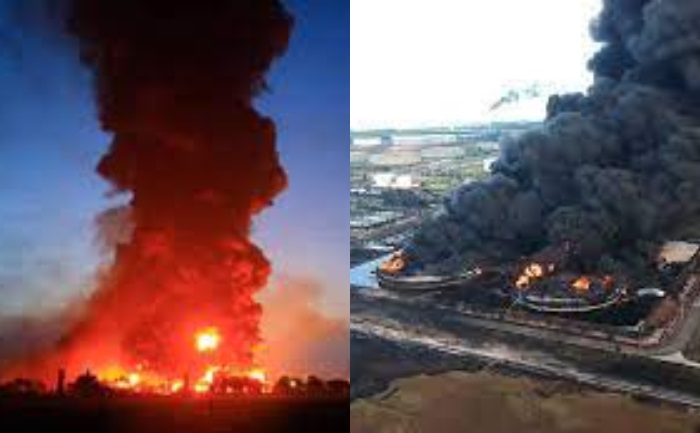 A massive blaze broke out Monday at one of Indonesia's biggest oil refineries. The fire broke out at the state-owned PT Pertamina's Balongan oil refinery after a huge explosion. The fire started Monday morning at a storage tank and then spread to other containers. It soon turned the entire complex into a blazing inferno. At least five people were seriously injured and about 1,000 local residents were evacuated from the scene.
#BREAKING: Huge #explosion in #Indonesia oil refinery. pic.twitter.com/E0BIPkg89D

— Asian OSINT (@AsianOSINT) March 29, 2021
The fire broke out at 12:45 a.m. local time Monday As many as 912 people living in a village near the plant in West Java were evacuated. Five people were seriously injured, some suffered minor injuries while several were reported missing, according to the authorities.
#BREAKING
⭕Massive #explosion occurred at the Balongan oil refinery, in the #Indramayu area of West Java province.
⭕The explosion was heard up to a radius of dozens of kilometres from the epicentre.
⭕The cause behind the massive blast is still unclear. #Indonesia pic.twitter.com/xhPL6BpSG8

— 𝐘𝐮𝐠𝐚𝐧 𝐍𝐚𝐫𝐦𝐚𝐭𝐡𝐚𝐧©️ 🇱🇰 (@yuganOffcial) March 29, 2021
Pertamina President Director Nicke Widyawati said at a televised briefing that the fire prompted an evacuation of nearby residents. It has also forced the company to halt operations at the refinery. The fire has been localized and maybe put out tonight,
The cause of the blaze that affected four storage tanks at the complex is still unknown, she said.
The company expects the situation at Balongan to return to normal in the next four to five days.
Also Read: Indonesia: 7 Killed, Hundreds Injured After Strong Quake Hits Sulawesi