Indonesia plane crash: Divers Pull Out Body Parts, Plane Wreckage In Java Sea
Rescuers Pull Out Body parts, Debris found at Siriwajaya Air Plane Crash Site In Java Sea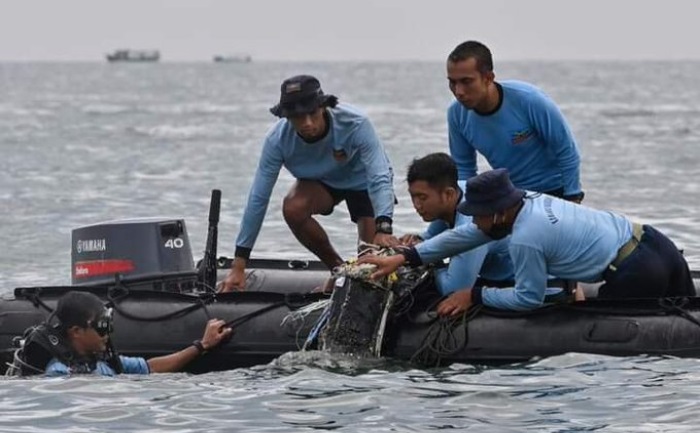 Indonesian authorities on Sunday said they have identified the crash site of flight SJ182. The ill-fated Sriwijaya Air Boeing 737-500 lost contact shortly after takeoff from Jakarta with 62 people on board. Indonesian divers have located parts of the wreckage of a Boeing 737-500 in the Java Sea, They have been pulling out body parts, pieces of clothing and scraps of metal from the waters.
A military vessel found the signal from the aircraft on Sunday.  Divers recovered parts of the plane from around 23 metres (75 feet) below the water's surface, the transport ministry said in a statement, citing Indonesia's military chief.
Heart wrenching, Indonesian rescuers pulls out a pink tshirt during the recovery of the Sriwijaya Air Flight SJ 182 plane which crashed into the sea in #Jakarta #IndonesiaPlaneCrash pic.twitter.com/U5ahoyZzGh

— Abhilasha Panda (@abhilasha_panda) January 10, 2021
Hadi Tjahjanto said the objects recovered included broken pieces of the fuselage with aircraft registration parts.
The plane that was headed to Pontianak in West Kalimantan crashed shortly after takeoff from the Indonesian capital, Jakarta. It's still unclear what caused the crash. But Fishermen in the area between Lancang and Laki islands reported hearing an explosion around 2:30 p.m. Saturday. There was no sign of survivors as yet
Indonesia Boeing 737 passenger plane crash site found
The Sriwijaya Air jet was carrying 62 people when it disappeared from radar four minutes into its journey to Pontianak in West Kalimantan province.#IndonesiaFlight #SriwijayaAir #planecrash #IndonesiaPlaneCrash #2021year pic.twitter.com/2N5PdFI9pG

— Architect Mubashir Tahir (@ArchitectMubas2) January 10, 2021
In October 2018, a Boeing 737 MAX 8 jet operated by Lion Air plunged into the Java Sea just minutes after taking off from Jakarta, killing all 189 people on board.
Also Read: Indonesia: Sriwijaya Flight SJ182 loses contact after taking off from Jakarta