Interpol issues red corner notice against bank fugitive Nirav Modi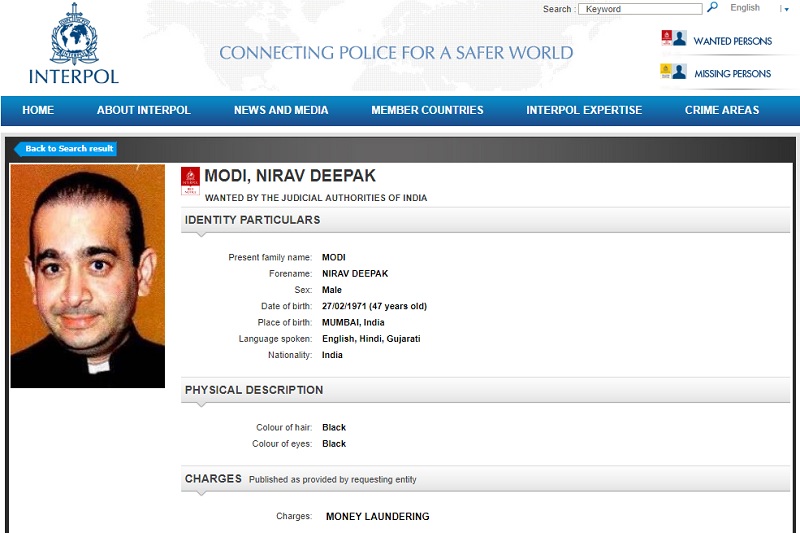 Looks like the multi-thousand crore  bank fraud fugitive and diamond merchant Nirav Modi will soon have his wings chopped. After the Enforcement Directorate(ED) had issued a red corner notice against Modi, the Interpol too have issued a red corner notice against alleged fugitive billionaire for bank fraud to enable his arrest, reports NDTV.
A week back Ministry of Foreign Affairs had written to his missions in European nations to co-ordinate with the representative country's official and inform India in case Modi is seen. Along with it the foreign ministry had also sought assistance from from France, United Kingdom, and Belgium – where the fugitive's sight is expected – to help in tracing and restricting the movement of diamantaire.
ALSO READ:  PNB fraudster Nirav Modi had only one valid passport, asserts MEA
But now, with the Interpol issuing a red corner notice, the morale of the Indian government has been boosted and the search for the fugitive has gained pace. A special Prevention of Money Laundering Act (PMLA) court in Mumbai has given a big yes for the deportation of alleged fraudster on June 26 this year.  According to the sources, the alleged multi-crore Punjab National Bank (PNB) scam fraudster is claiming a political asylum in United Kingdom.
Interpol issues red corner notice against fugitive billionaire Nirav Modi for bank fraud to enable arrest pic.twitter.com/7awy5LBFqw

— NDTV (@ndtv) July 2, 2018
Earlier, MEA had clarified in their statement that the ministry had issued only one valid passport to Modi, after it was rumoured that he was travelling with five passports. Media reports also claim that he was seen at Hongkong and JFK airports recently.
ALSO READ: Foreign Ministry on hunt for Nirav Modi
MEA spokesperson Raveesh Kumar had said earlier this week, "At no time, he had more than one valid passport in his possession. You are all aware that in February, based on the advise of our agencies, his passport was initially suspended and then revoked."
Informing about the intimation being sent to all the missions, Kumar had said, "The revocation notice was sent to all passport issuing authorities in India and abroad as well as to all our Missions and Posts. Intimation was also given to the agencies on this matter."