Iranian 'Zombie Angelina Jolie' Instagram Star Jailed For Decade
Iranian 'Zombie Angelina Jolie' Instagram Star Sahar Tabar Jailed for a Decade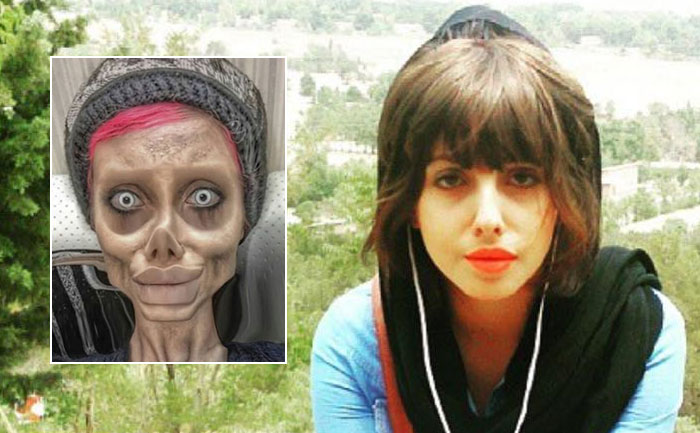 Iranian Instagram star Sahar Tabar also known as Zombie Angelina Jolie has been sentenced for a ten-year jail term. The 19-year-old's real name is Fatemeh Khishvand, from Tehran. The young girl shot to prominence after posting images of her eerily gaunt face resembling a zombie-Angelina Jolie lookalike. Her images gathered her 486,000 followers.
Many saw the stunt as a joke or as social commentary. But Sahar was arrested on October 5, 2019, along with three other female Instagram influencers in Iran. She has now been sentenced to ten years jail term for 'promoting public corruption blasphemy. Also for inciting violence, gaining income through inappropriate means.
Iranian Journalist Masih Alinejad has now asked Hollywood actress Angelina Jolie to intervene.
I call on Angelina Jolie to help an Iranian 19-year-old girl who received 10 years prison sentence for using makeup & Photoshop to turn herself into Angelina.
Islamic Republic has a history of tormenting women. We need to be united against this gender apartheid pic.twitter.com/Z5Y8yMsY76

— Masih Alinejad 🏳️ (@AlinejadMasih) December 11, 2020
As per Daily Mail, In April this year, it was reported that Tabar had caught Covid-19. But she was refused bail.
Saha had admitted that she had undergone the knife to make changes to her nose, lips to look more like Angelina. Sahar always denied that she underwent 50 surgeries to get the viral look. There are many pictures of her new look on Instagram, many of which she admits is due to make-up and editing.
Also Read: Iran's Angelina Jolie lookalike arrested for moral corruption