Isle of Man Chess: Vishwanathan Anand struggles for a draw against Robert Hess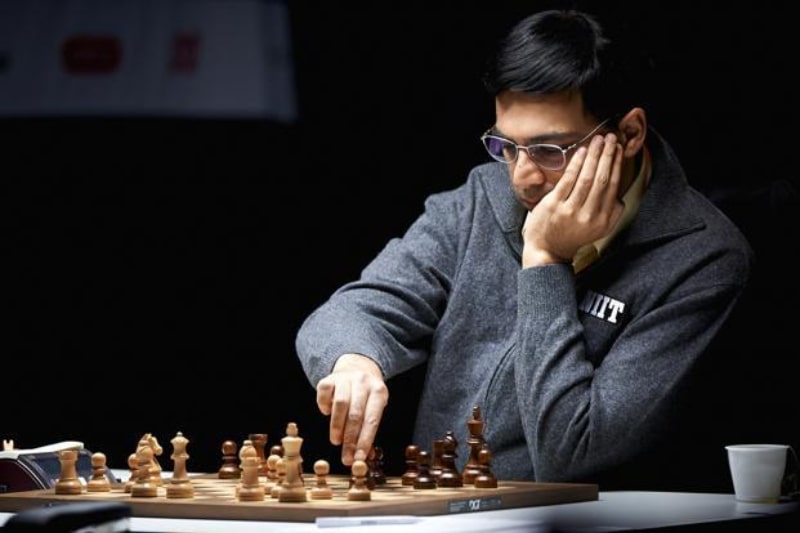 For the second consecutive day, former World Champion Vishwanathan Anand stuttered as he eventually was held to a draw by United States' Robert Hess in the second round of Isle of Man International Chess tournament on Monday.
A 13-year old named Raunak Sadhwani could have created a major upset as he was close to defeating Anand but the experience of the latter stood out in the end as he held on with some intelligent moves.
Anand took a defensive approach in the second round as well while he is yet to rediscover his best. Hess, who was named coach of the US women's team for the Chess Olympiad pulled off a win but a long defence from Anand eventually ended the contest in a draw. The Indian managed to avoid a defeat after playing out 78 moves.
Nonetheless, it was a time for upsets in the competition as the Indians were at the favourable end in all of them.
The biggest one of them all was a win by Grandmaster V Vishnu Prasanna who defeated Israel's Tamir Nabaty–rated nearly 200 points more than him.
Also read: Chess Olympiad: Indian men defeat Czech Republic while women suffer defeat against Hungary
Harsha Bharthakkoti, a Grandmaster-in-waiting got the better of countryman SP Sethuraman in a spectacular match. From the outset, Harsha targetted Sethuraman's queen and sacrificed his queen–a move to be remembered.
Vidith Gujrathi emerged as the winner in his contest against Debashish Das.
Peter Leko of Hungary settled for a draw against young Grandmaster R Praggnanandhaa. Leko had defeated Tania Sachdev in the round before this match after a hard-fought contest.
Vaishali, Praggnanandhaa's sister also drew against Alexandra Kosteniuk–a former women's World Champions.
Five Indians are in the lead in a group of 19 competitors with seven rounds left in one of the toughest competitions in chess.
Grandmasters Abhijeet Gupta and Vaibhav Suri also have taken leads with perfect scores.
Important second round results (involving Indians): Abhimanyu Puranik (1) lost to Maxime Vachier-Lagrave (FRA, 2); Viswanathan Anand (1.5) drew with Robert Hess (US, 1.5); Vidit Gujarati (2) beat Debashis Das (1); V Vishnu Prasanna (2) beat Tamir Nabaty (ISR, 1); Peter Leko (HUN, 1.5) drew with R Praggnanandhaa (1.5); Harsha Bharathakoti (2) beat S P Sethuraman (1); B Adhiban (1.5) drew with Helgi Olafsson (ISL, 1.5); Nigel Short (ENG, 1.5) drew with M Shyam Sundar (1.5); Vaibhav Suri (2) beat Daniel Gormally (ENG, 1); Niclas Huschenbeth (GER, 1.5) drew with Prithu Gupta (1.5); Valerio Bianco (ITA, 1) lost to Abhijeet Gupta (2); Raja Harshit (0.5) lost to Wesley So (US, 1.5); Hikaru Nakamura (US, 1.5) beat S Kidambi (0.5); C R G Krishna (0.5) lost to Richard Rapport (HUN, 1.5); S Ravi Teja (1) drew with David Howell (ENG, 1); Rahul Srivastava (1) drew with Alexei Shirov (ESP,1); Jovana Rapport (GEO, 1) drew with Surya Shekar Ganguly (1); Alexandra Kosteniuk (RUS, 1) drew with R Vaishali (1).
Image credit- Livemint