James Charles And Tfue Dish On Their Valentine's Day 'Date'
James Charles publicly asked for a Valentine's Day date on Twitter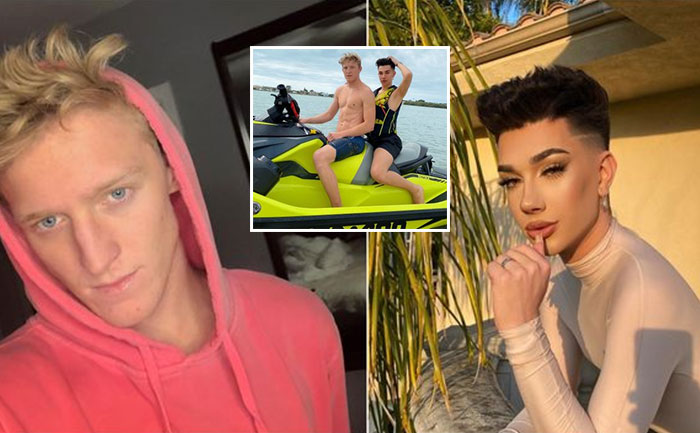 James Charles threw out an open invitation and Fortnite gamer Tfue cashed in on the opportunity by scoring a date with the beauty YouTuber. The story goes that James Charles Tweeted out on Valentine's Day writing, 'Ok so who's gonna take one for the team and be my valentine'
It wasn't long before people were queuing up to James' Valentine's date. Many internet personalities like Tanner Fox, 100T Froste, and Mykie replied to James Charles. However, it was Fortnite Gamer Tfue who got to be James Charles' Valentine's 'date'. James replied to Tfue by writing, "Down where's our date tonight" and Tfue was quick to respond with, "Anywhere but LA"
This led to James going all the way to Florida for his 'date' with gamer Tfue after he tweeted, "just made a very impulse Valentine's Day decision" with a plane emoji. Tfue later shares a picture of himself with James Charles with the caption, 'It never hurts to shoot your shot'. The two were seen riding a jet ski in Tampa Florida.
it never hurts to shoot your shot pic.twitter.com/n5x3roidKY

— Tfue (@TTfue) February 16, 2020
Tfue recently went through a very public break-up with Corinna Kopf. They had been dating for six months. In light of the Valentine's Day pictures, Corinna Kopf tweeted, "yoo why is James Charles at my ex's house all the way in Florida??"
Tfue has never been public about his sexuality but recently broken up with his girlfriend of six months, Corinna Kopf, after a very-public argument during a live-stream on Twitch together.
Tfue is a YouTube gamer who is known for his live-streams. He has 11.5 million followers on YouTube.
ALSO READ: James Charles Hangs Out With Kylie Jenner At The ACE Family's Third Birthday Bash