Jammu Blast: Drones Used In Terror Attack At IAF Base
Drone strike on IAF base a terror attack, says J&K police chief; crude bomb found in Jammu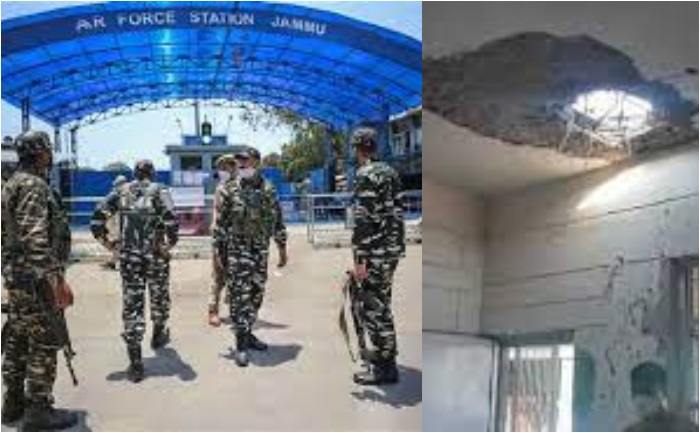 Two explosives-laden drones crashed into the Indian Air Force station in Jammu on Sunday. It injured Two IAF personnel and also damaged a building there. The first blast ripped off the roof of a single-storey building at the high-security technical area in the Satwari area of the city. The second one was on the ground. Two suspects were detained by the J&K police on Sunday for questioning.
In a Twitter post, the IAF said, "The sentry at the base heard two separate whirring sounds followed by two blasts at an interval of six minutes. No remains of drones were found at the site, so it is suspected that they dropped their payload and went back."
There was no damage to any equipment. Investigation is in progress along with civil agencies.

— Indian Air Force (@IAF_MCC) June 27, 2021
Sources said The first explosion occurred around 1.30 am. A second was dropped minutes later. The explosives were dropped close to the aircraft hangars. Multiple teams from the bomb disposal squad, forensics, IAF, police, and security agencies were rushed to the spot. Jammu and Kashmir's director general of police Dilbag Singh said that the twin blasts were part of a "terror attack".
As reported by sources to News18, the Jammu and Kashmir Police have lodged a case under Section 16,18, and 23 of the UAPA ACT, Sections 307 and 120 B of the IPC, and under relevant sections of the Explosives Act.
IAF chief Air Marshal RKS Bhadauria is monitoring the situation. Defence Minister Rajnath Singh also spoke to vice IAF chief Marshal HS Arora. The drone attack took place days after Prime Minister Narendra Modi held a meeting with the political parties of the Union territory.
Also Read: BSF foils Pakistan attempt to smuggle drugs, arms, ammo into Jammu