J&K: Polling underway for fifth phase of Panchayat elections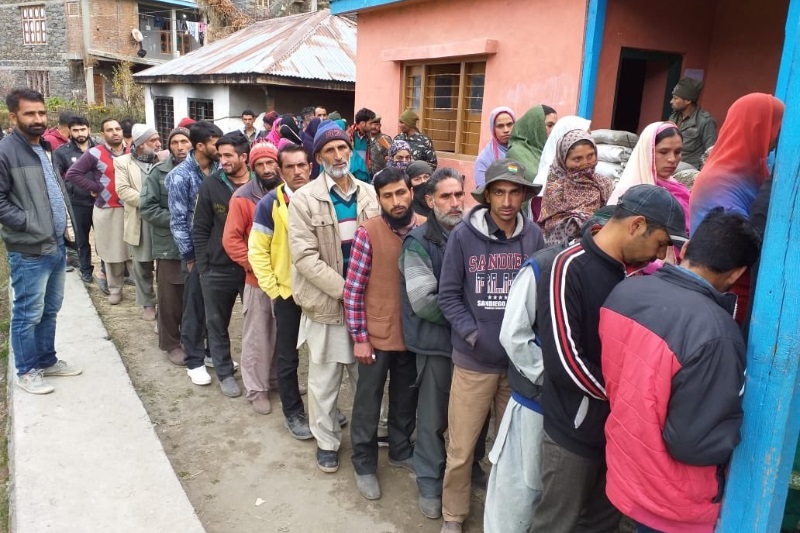 Under the shadow of terror threat, polling for the fifth phase of panchayat elections across Jammu and Kashmir is currently underway. Polling, which began at 8 am, will culminate at 2 PM.
Notably, voting is taking place at 2,512 polling stations out of which 769 are in the Kashmir division and 1,743 in Jammu division. A total of 848 polling stations have been categorised as 'hyper-sensitive' – 755 in Kashmir and 93 in Jammu division.
Nearly 4,763 candidates are in the fray in this phase of polls for 309 posts of 'sarpanch' and 1,534 'panch' while 118 sarpanchs and 1,046 panchs have been already elected unopposed.
The fourth phase of panchayat election was held on November 27. In the first phase of Panchayat Polls held on November 17, 74.1 percent polling was recorded across the state including 64.5 percent in Kashmir and 79.4 percent in Jammu.
In the second phase held on November 20, 71.1 percent polling was witnessed in the state with an overwhelming 80.4 percent polling in Jammu and 52.2 percent in Kashmir. In the third phase, the state witnessed a polling percentage of 75.2 percent which included 55.7 percent in Kashmir and 83 percent in Jammu division.
Importantly, the nine-phased panchayat polls will end on December 17. Panchayat polls were last held in the state in 2011.
Also Read: Jammu and Kashmir: Polling underway for fourth phase of Panchayat elections