Jammu and Kashmir: Polling underway for fourth phase of Panchayat elections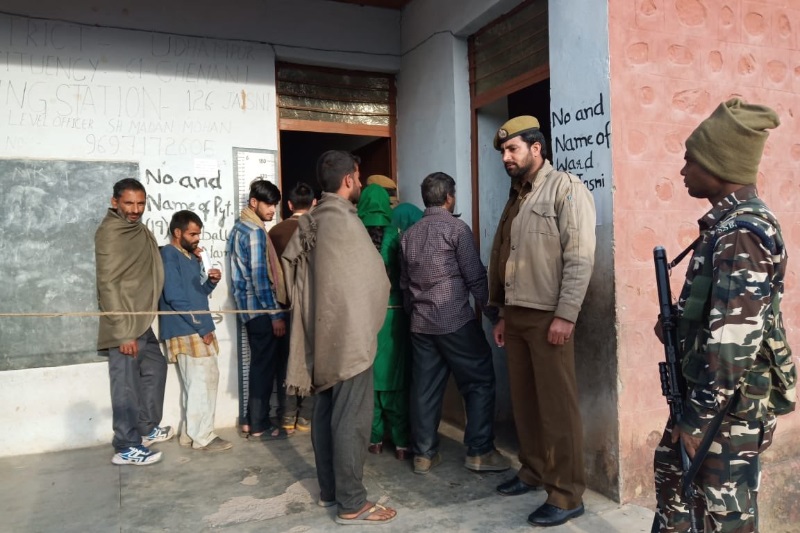 Amid stringent security, polling for the fourth phase of panchayat election is currently underway. Polling, which began at 8 am, will culminate at 2 PM.
Notably, polling is being held at 2,618 polling stations across Jammu and Kashmir. State chief electoral officer Shaleen Kabra said, "Voting began at 639 polling stations in Kashmir and 1,979 in Jammu division."
Shaleen Kabra further said, "As many as 777 polling stations have been categorised as hypersensitive in the fourth phase including 571 in Kashmir and 206 in Jammu." He further added that 5470 candidates were in the fray for 339 Sarpanch and 1749 Panch seats in Phase-IV, while 99 Sarpanchs and 969 Panchs have been elected unopposed in this Phase.
"Security arrangements have been made including the deployment of Central Armed Police Forces (CAPF)," he said, adding that the government had declared a holiday in the areas that will vote on Tuesday.
It is to be noted that the total electorate of 4,72,160 will be voting for Sarpanch constituencies, while 3,32,502 will be voting for Panch constituencies.
In the first phase of Panchayat Polls held on November 17, 74.1 percent polling was recorded across the state including 64.5 percent in Kashmir and 79.4 percent in Jammu.
In the second phase held on November 20, 71.1 percent polling was witnessed in the state with an overwhelming 80.4 percent polling in Jammu and 52.2 percent in Kashmir.
In the third phase, the state witnessed a polling percentage of 75.2 percent which included 55.7 percent in Kashmir and 83 percent in Jammu division.
Also Read: Jammu panchayat elections: 75 percent voters exercise rights, Udhampur registers maximum voting