Jammu Kashmir Tense: Tourists and outstation students asked to leave ASAP
J&K tense as additional troops arrive, tourists and outstation students asked to leave the valley ASAP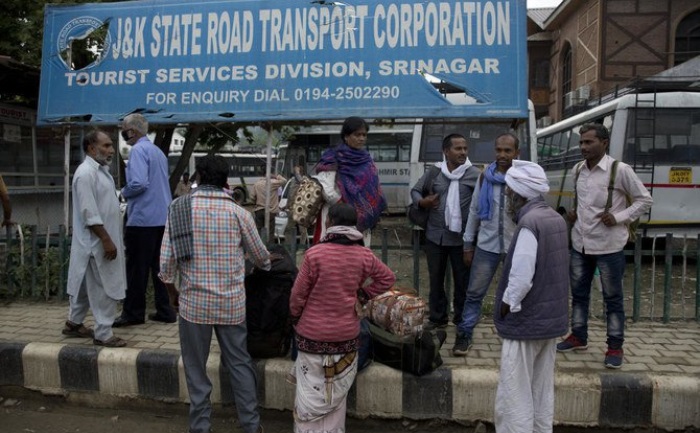 Citing terror threat in the Valley the J&K administration has issued warming. Keeping in mind the safety of Amaranth Yatra, the Jammu and Kashmir (J&K) administration has urged the pilgrims too curtail their stay and leave the valley as soon as possible. They have even advised outstation students, tourists and labourers to do the same.
The security advisory comes hours after the Indian Army recovered a Pakistan Ordnance factory anti-personnel mine from a terror cache. The Army said that terrorists belong to Pakistan and they are planning to carry out an attack at the Amarnath Yatra.
Soon tens of thousands of tourists, pilgrims and workers have begun leaving the disputed region of Kashmir. Hundreds of Indian students from outside Kashmir were evacuated in buses.
Kashmiri residents formed long lines outside petrol stations, food stores and bank cash machines on Friday night after the alert was announced.
The Indian government has admitted that 10,000 extra troops in Kashmir – where it already has 500,000 forces stationed – a week ago. Kashmir politicians have raised fears that the extra Indian troops are a sign that the government is trying to scrap Kashmir's special status under the constitution.
Former Jammu and Kashmir Chief Minister Omar Abdullah along with a delegation of National Conference (NC) leaders met Governor Satya Pal Malik on Saturday to seek clarity over the current situation in the state.
Though the Governor has assured the NC delegation that the measures are not about Article 35A, trifurcation or 370. But the measures are being taken against the terrorist threat. But Omar wants the government to issue a statement on the ongoing Kashmir issue.
For the uninitiated as per Article Article 370 of the Indian Constitution, a special status is given to the state of Jammu & Kashmir. The citizens live under a separate set of laws.
Also Read: Curtail Amarnath Yatra, Leave Kashmir ASAP: J&K Govt Issues Security Advisory For Pilgrims