Mufti Ismail Qasmi Resigns From NCP, Cites Sharad Pawar's Absence During Triple Talaq Bill Voting
Ex-MLA and Cleric belonging to Malegaon has finally resigned from Nationalist Congress Party citing Sharad Pawar and Praful Patel's absence during Triple Talaq Bill voting in Rajya Sabha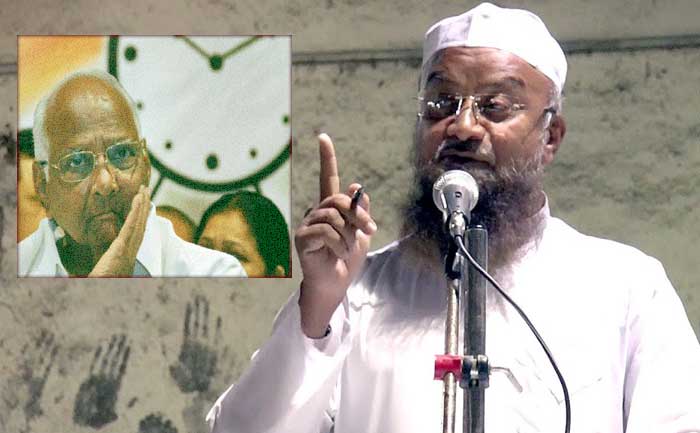 Days after Triple Talaq Bill was passed in Rajya Sabha and has been signed by the President Ram Nath Kovind, cleric-turned politician, Mufti Mohammed Ismail Qasmi has resigned from the National Congress Party (NCP). The announcement of Mufti Mohammed Ismail's resignation from NCP was made in a Press Conference held in Malegaon. Explaining the reason behind his resignation, Ex-MLA Mufti Ismail said that he does not want to support a Party who merely takes advantage of Muslim votes and do not present them at the house when they needed.
The prime reason behind Mufti Ismail's resignation from NCP party is the absence of its senior leaders Sharad Pawar and Praful Patel when the ruling party was voting in favour of Triple Talaq Bill. When Muslim began raising their voices against Triple Talaq bill, Sharad Pawar had once said that they would not let the bill get passed in Rajya Sabha. But at the time of voting on the contentious Triple Talaq Bill on 30th July 2019, he was nowhere to be seen.
Mufti Ismail —who had joined the Nationalist Congress Party (NCP) in 2014 — along with his 20 corporators, has resigned from NCP. It is to be noted that almost 20 opposition leaders were not present at the house at the time of voting on the contentious triple talaq bill.
The benefit of being not in Rajya Sabha is quite evident as ruling Bharatiya Janata Party (BJP) has finally succeeded in passing Triple Talaq Bill in Rajya Sabha with 99 members voting in favour and 84 against it.
According to PTI, besides, NCP leaders, Congress MPs who were not present in the house during voting on Triple Talaq were Vivek Tankha, Pratap Singh Bajwa, Mukut Mithi and Ranjib Biswal, besides Sanjay Sinh. AIMIM Candidate Mufti Ismail Qasmi Wins Malegaon Assembly Constituency Seat Again
There absent in the house during voting on Triple Talaq Bill indirectly helped the ruling party get its legislation through in the upper house where the ruling party does not enjoy a majority.
Mufti Mohammad Ismail — who won the 2009 Maharashtra election to represent the Malegaon (Central) assembly constituency for the next five years — got ticket from Asaduddin Owaisi's party, All India Majlis-e-Ittehadul Muslimeen.
Also Read: Malegaon Protests Against Mob Lynching, Demands Justice For Tabrez Ansari