Jayaraj & Bennicks Death: Kareena Kapoor, Alia Bhatt And Others Condemn TN Custodial Deaths
Kareena Kapoor And Bollywood Celebs Reacts On The Jayaraj & Bennicks' Death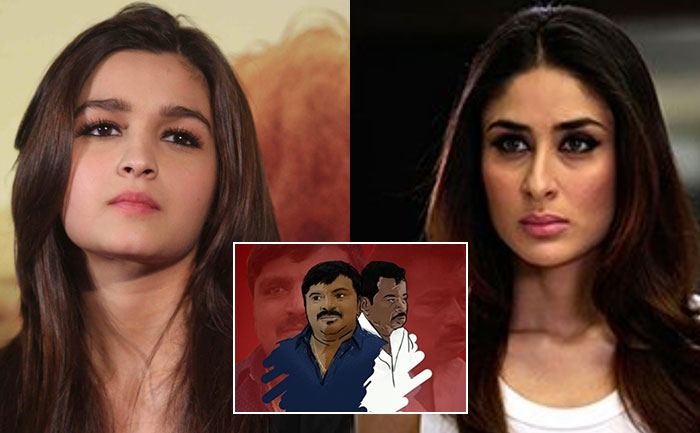 US based George Floyd's death after the Police violence has already created a momentum all across the world. Several Hollywood celebs, including Indian celebs were seen supporting the protesters to bring new laws against Police violence. Now, Kareena Kapoor Khan, Alia Bhatt, Janhvi Kapoor and other expresses outrage on social media for the custodial death of a father and son duo in Tamil Nadu's Thoothukudi. Allegedly, Jayaraj and Bennicks' (middle class people) were killed by TN police in their custody.
Celebs took to their social media handles and posted demanding for justice for Jayaraj and Bennix. Condemned the alleged actor of Tamil Nadu Police, Kareena Kapoor took to her Instagram handle shared a cryptic note. She wrote,"Such brutality is unacceptable, whatever be the circumstance. As a society, we must continue to speak until justice prevails and work towards this not happening again. #JusticeForJayarajAndBennix."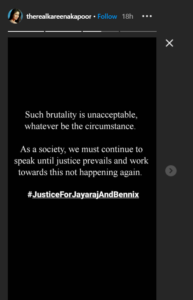 Alia Bhatt too took  to her Insta stories and posted for Jayaraj and Bennix.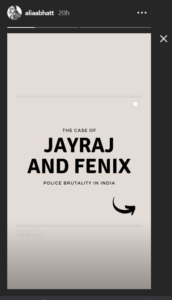 Check out what Bollywood celebrities posted on their social media handles.
Absolutely horrific #JusticeForJayarajAndFenix https://t.co/SFMJxVlMp8

— Kiara Advani (@advani_kiara) June 27, 2020
— Shraddha (@ShraddhaKapoor) June 27, 2020
I am so so shocked and pained and to a large extent just unsure, how we have become such a horrible race.. This incident is so brutal, it actually breaks my heart.. Just not done💔💔 #JusticeforJayarajAndFenix https://t.co/YoMxSo8jW5

— Genelia Deshmukh (@geneliad) June 26, 2020
This is heartbreaking .I am disgusted. This kind of brutality is inhuman and no one has the right to treat another life in this manner .Makes me sick to the stomach. Strength to the family members of the deceased .This should not be tolerated. I demand #JusticeforJayarajAndFenix https://t.co/pPwC2ME8Vr

— Rakul Singh (@Rakulpreet) June 27, 2020
Aghast & ashamed! How barbaric can humankind be in tough times like these? This is an insult to the very essense of humanity. Brutality in all forms & at all levels needs to stop. Justice needs to be served.The law is equal for all & nobody is above it. #JusticeForJeyarajAndFenix

— Tamannaah Bhatia (@tamannaahspeaks) June 27, 2020
I couldn't even listen to this whole video. Grotesque and gruesome. The cops involved need a harsher punishment than just a transfer 😡😡 #JusticeForJeyarajAndFenix https://t.co/WaoNSIS8ur

— Kajal Aggarwal (@MsKajalAggarwal) June 27, 2020
Disturbing. Unfair. Inhuman.
We can't even begin to imagine what they went through. #JusticeForJayarajAndBennix pic.twitter.com/FlxwObWE0s

— Nushrratt Bharuccha (@Nushrratt) June 27, 2020
For all the latest updates, stay hooked on to The Live Mirror.
Also Read: Saif Ali & Kareena Kapoor Khan Trolled For Going Out With Taimur Without Masks