Jennifer Aniston shares holiday picture with Laura Dern and Rita Wilson
Jennifer Aniston lately shared a picture with Laura Dern and Rita Wilson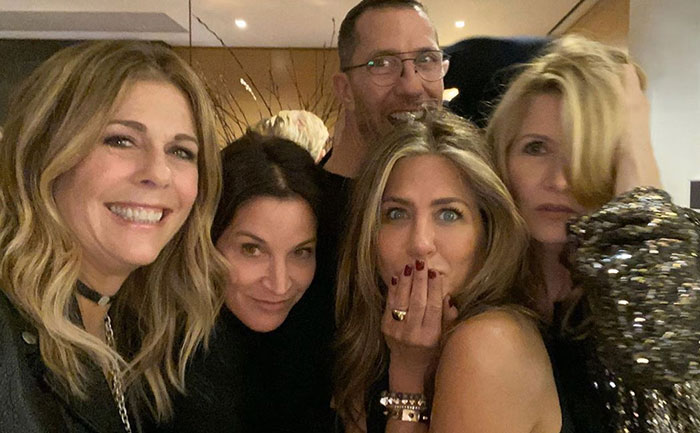 Jennifer Aniston apparently rang in the holidays with few stars. Two of the stars with whom she shared holiday picture is Rita Wilson and Laura Dern. Jennifer shared the picture with her fans on the social media Instagram. The actress enjoyed the holidays with her celebrity friends.
Recently, Jennifer Aniston took to Instagram on the day of Monday with a candid picture from the latest festivities which includes guests like Laura Dern, Rita Wilson as well as longtime hairstylist Chris McMillan. She captioned, "Say CHEESE!! Lotta love in that room Happy Holidays!" Check out the image below.
Also, Jennifer has been surrounding herself with a lot of celebrity friends this holiday season. In fact, she had invited a couple of stars, one of them which was ex husband Brad Pitt. All of these were also present to her Christmas tree trimming party.
Interestingly, Brad Pitt and Jennifer Aniston became friendly in the past recent years as he had also attended her 50th birthday party previously this year.
"There's no awkwardness and they are friendly. They wish each other the best and are on good terms." a source reportedly told E! News.
Moreover, Jennifer Aniston is at the moment up against her co-star Reese Witherspoon in the Best Actress in a Drama Series category for their roles in The Morning Show. Meanwhile, Jennifer Aniston has been on a holiday spirit the entire year. It was in the month of November when had hosted a Friendsgiving. Even the celebs who attended the party were popular celebs.
Also Read: Jennifer Aniston Wonders Why She Was Missing From Cox And Perry's Lunch Date