Jennifer Garner's 9-year-old daughter calls her a 'fun-killing mom'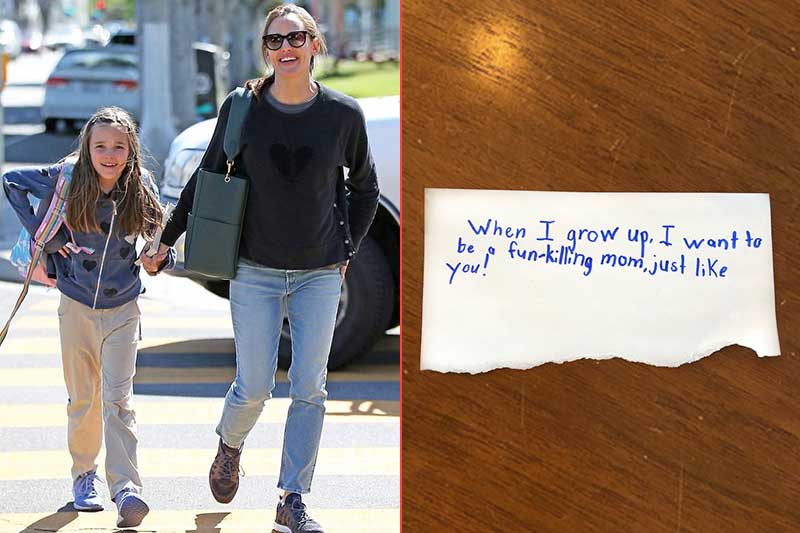 Although Jennifer Garner seems to be a super mom to her three kids, but daughter Seraphina thinks she's a 'fun killer'. In a hilarious note that she left for her mother Jennifer, that's either a burn or big compliment.
The Elektra actress, is a devoted mother to her three kids, giving them loads of love, care and attention. It seems at times, she does too much, as one of her daughters has accused her of being a buzzkill when it comes to fun.
The 46-year-old actress shared a note that her nine-year-old Seraphina Affleck left on Nov 9, and it's hard to tell if she's really in awe of Jennifer or is it pun-intended.
Jennifer posted an Instagram pic of the hand written note in blue ink that read "When I grow up I want to be a fun-killing mom just like you."
Commenting on the note, she wrote, "Is this a nine-year-old burn? Or the ultimate compliment?" Jennifer asked fans with the amazing hastag #illtakealovenotehoweveritcomes. This left her fans in split. One of them commented "You know you're doing your job as a mom when your kid roasts you like this." Another fan added, "It's the good way of course. At 9 they still think you're amazing!!" "Yes. That is quite the compliment. Take it!" one of the moms urged but another one added "Lol! My girls called me fun-sucker!!!"
One of her follower decided to get their own kid's take on what Seraphina might have meant to say, "My 7-year-old just read it. Without me saying a word he said, 'That's just rude. But dad's do like fun and mom's don't, so, yeah." Few of them also took note of the fact that how Seraphina is already good with grammar. One of them commented, "Her punctuation is on point!!", while another added, "Wow, the punctuation alone is impressive."
Also read: Priyanka Chopra and Nick Jonas obtain US marriage license