Mumbai: 80 feet underground 17 'Rivers' paving a parallel city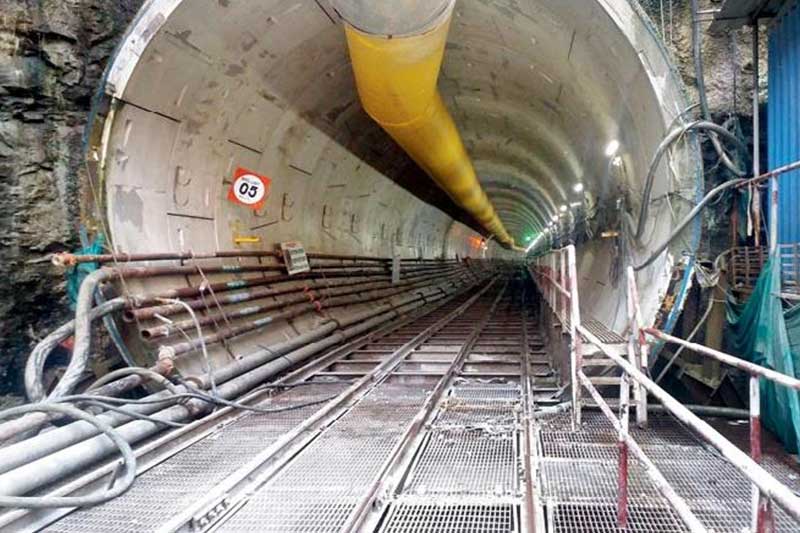 Almost eight storeys beneath the ground, the Metro III tunnel boring machines are whirring quietly, building a parallel city of underground tunnels. Up-till-now, 10.72 km of tunnels are ready. The machines which were lowered at at CSMT have reached Girgaum, and the one at Naya Nagar has now reached Dadar, about 500 metres from Shiv Sena Bhavan.
Around 80 feet underground, there are 17 Tunnel Boring Machines (TBM) – named after rivers in Maharashtra – furiously digging the 33.5-km Metro network. According to reports in mid-day, the Colaba-Bandra-SEEPZ corridor will connect six business districts, the domestic and international airports, and have five interchange points for suburban railways and one each for the Monorail and Versova-Andheri-Ghatkopar Metro.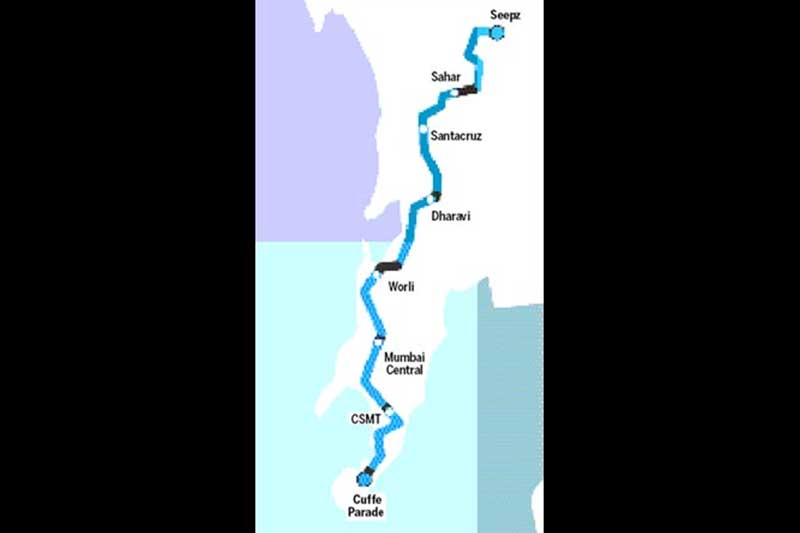 Here are the details of how far the machines have reached.
Cuffe Parade-CSMT
Stations: 4 (Cuffe Parade, Vidhan Bhavan, Churchgate, Hutatma Chowk)
TBM: 2 (Surya 1 and 2)
Total length of tunnel: 5.88 km
Tunnel completed: 41 m
Total muck volume 10.5L m3
Muck generated and disposed: 2.5 lakh m3
Disposal sites: Kalwar and Ulwe
CSMT-Mumbai Central
Stations: 4 (CST Metro, Kalabadevi, Girgaum, Grant Road)
No. of TBM: 2 (Vaitarna 1 and 2)
Total length of tunnel: 7.64 km
Tunnel completed: 1.74 km
Total muck volume: 6.86 lakh m3
Muck generated and disposed: 2.27 lakh m3
Disposal sites: Mhape MIDC and Ambernath
Sahar-Seepz
Stations: 3 (Marol Naka, MIDC and SEEPZ)
No. of TBM: 3 (Wainganga 1, 2 and 3)
Total length of tunnel: 7.07 km
Tunnel completed: 1.26 km
Total muck volume: 11 lakh m3
Muck generated and disposed: 2.35 lakh m3
Disposal sites: Talawali-Pise
Santacruz-Sahar
Stations: 3 (Domestic Airport, Sahar Road, International Airport)
No. of TBM: 1 (Tapi)
Total length of tunnel: 6.94 km
Tunnel competed till date: 0
Total muck volume: 13.6 lakh m3
Muck generated and disposed: 7.01 lakh m3
Disposal sites: Waliv and Daniv
Dharavi-Santacruz
Stations: 4 (Dharavi, BKC, Vidyanagari, Santacruz)
No. of TBM: 4 (Godavari 1, 2, 3 and 4)
Total length of tunnel: 7.99 km
Tunnel completed: 1.85 km
Total muck volume: 10.7 lakh m3
Muck generated and disposed: 1.87 lakh m3
Disposal sites: Waliv and Daniv
Mumbai Central-Worli
Stations: 4 (Central Metro, Mahalaxmi, Science Museum, Worli)
No. of TBM: 2 (Tansa 1 and 2)
Total length of tunnel: 7.4 km
Tunnel completed: 2m
Total muck volume: 21 lakh m3
Muck generated and disposed: 91,000 m3
Disposal sites: Dapode and Bhiwandi
Worli-Dharavi
Stations: 3 (Siddhivi-nayak, Dadar, Sitaladevi)
No. of TBM: 3 (Krishna 1, 2 and 3)
Total length of tunnel: 10.95 km
Tunnel completed: 3.46 km
Total muck volume: 9.29 lakh m3
Muck generated and disposed: 2.47 lakh m3
Disposal sites: Dapode and Waliv
Metro 3 in numbers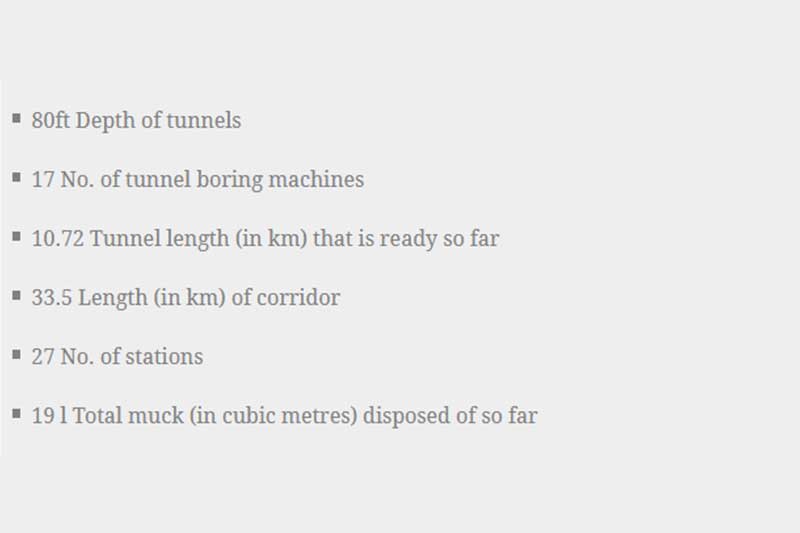 Also read: Mumbai witnesses noisy Diwali this year, flouted SC Diwali order