Jharkhand Bandh: 12-hour protest against amendments in the Land Acquisition Act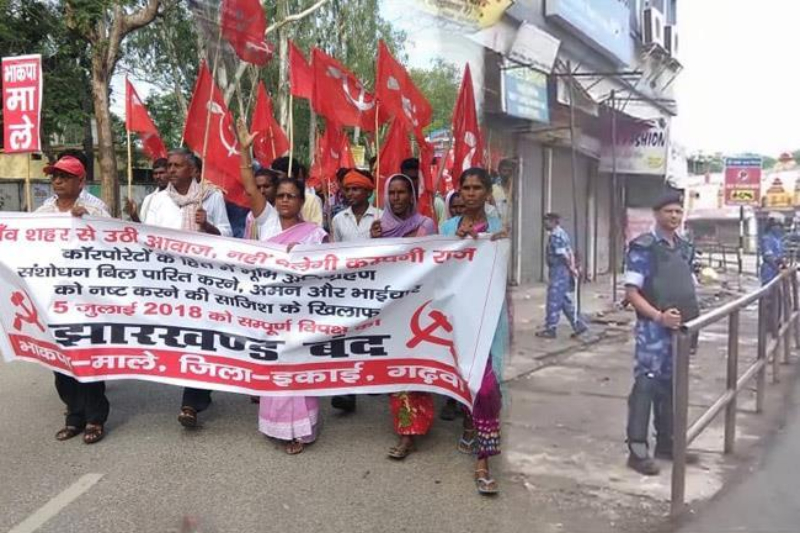 Jharkhand Mukti Morcha party has organized a bandh today along with the Congress, Jharkhand Vikas Morcha (Prajatantrik) and Left Parties, as an act to protest the amends made in the Land Acquisition Act, 2013, which was implemented by Raghubar Das' BJP government. The state forces have strengthened security around the sensitive regions, with five thousand forces around the protesters to keep them from instigating violence against property and other people. CCTV cameras have also been tacked in different locations, to watch over the activities of the crowd as it continues its protest down the roads of the state. But, it seems that the protesters haven't come in unison for the Bandh, as the first visuals from the regions show a comparatively tame crowd.
The opposition parties are reportedly leaving no stone unturned to make their July 5 Jharkhand bandh, called against the amendments in the Land Acquisition Act 2013, and July 16 mahadharna outside Rajbhawan, a success.
The coordination committee of the joint opposition led by leader of opposition in assembly, Hemant Soren, met at his residence on Monday to chalk out action plan for the bandh and taking stock of the present political situation.
The statewide bandh has been called to protest the amendments made in Land Act, 2013, and the opposition parties have found it an opportune moment to join hands to take on the BJP-led NDA government before the next general and assembly polls.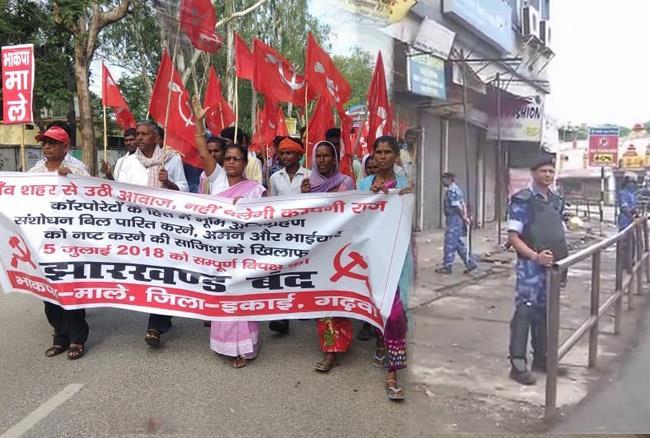 However, it is understood that the leaders have been assigned with specific tasks. "The bandh will be spontaneous and significant," said leader of opposition, Hemant Soren had said yesterday with regards to the Jharkhand Bandh.
RJD leader Annapurna Devi said party workers have been directed to build up coordination at the district level as well to prepare for the bandh.
CPI (M) state secretary G K Bakshi said the Left is behind the unity initiative and will take part actively in the JMM -led statewide bandh.
Jharkhand: Opposition parties call for shutdown across the state against state government's Land Acquisition Bill; visuals from Ranchi. pic.twitter.com/ac6h9Sa2ec

— ANI (@ANI) July 5, 2018
Also Read:Jharkhand Landmine Blast; seven martyred, 10 injured
RJD state president Annapurna Devi and party leader Janardan Paswan, Congress legislator Sukhdeo Bhagat, CPI (M) state secretary GK Bakshi, Bhubaneswar Prasad Mehta (CPI), Bandhu Tirkey (JVM-P), Anand Mahto(Marxist coordination committee), social worker Dayamni Barla and leaders from several other social organisations attended the meeting.
सामाजिक आकलन किये बिना भूमि अधिग्रहण की ये कैसी जिद्द है @dasraghubar जी ?

राज्य की जनता ये कटाई नहीं होने देगी. #JharkhandBandh #Mahabandi pic.twitter.com/5krifbp149

— Jharkhand Congress (@INCJharkhand) July 5, 2018
It is learnt that several leaders of different opposition parties, separately visited CPI office to chalk out bandh strategies for the Jharkhand bandh.
In the past 3 years, the @BJP4Jharkhand govt and @dasraghubar have tried everything to snatch away Adivasi lands and sell them to corporates at cheap rates. @BJP4Jharkhand must resign #Mahabandi #Jharkhandbandh #उठो_लड़ो_बदलो

— Jharkhand Mukti Morcha (@JmmJharkhand) July 5, 2018
The bandh is being seen in different parts of the state, including Ranchi, Jamshedpur, Dhanbad, Giridih, Bokaro, Ramgarh, Chatra and Pakud. All main roads and stop stations are closed at the railway station.
"Peaceful protest will definitely be allowed. However, if we see violence anywhere strong action will be taken," Shyama Nandan Mandal, Deputy Superintendent of Police (DSP), Ranchi pic.twitter.com/2WGeQCQZ3V

— ANI (@ANI) July 5, 2018
While reporting the turn of events to turning slightly violent in the Jharkhand Bandh, ADG (Operations) and Jharkhand police spokesperson R K Mallick said: "So far, more than 500 people have been detained. Rail traffic was temporarily stopped at one place in Sahebganj. Protesters tried to block trains, but were removed. Forces and senior officials are on the ground. We are keeping a close watch", Indian Express reported.
Also Read:UN report nails India; says Jharkhand, Chhattisgarh naxalites recruiting kids
In Ranchi, personnel was deployed at Albert Ekka Chowk, while senior officials took rounds of the city area. Protesters were taken into custody when they reached the Chowk and tried to stage a sit-in.
Appealing to the people to maintain peace in the Jharkhand Bandh, the Director General of Police said that the government's aim is 'Sabka Saath, Sabka Surakshya and Saabka Vikas' (together with all, safety and development for all).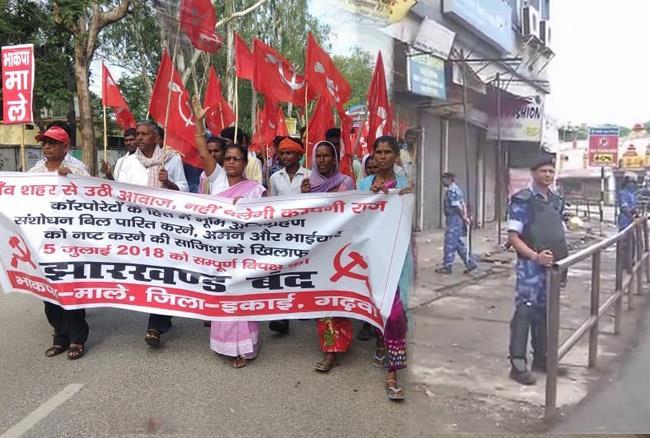 It has been decided that a joint delegation of the opposition led by Hemant Soren will visit Kochang village and other places in Khunti on July 7.