Joker : Scene from Joker turns out as Internet referenced Meme
Joaquin Phoenix's Joker is now a most referenced meme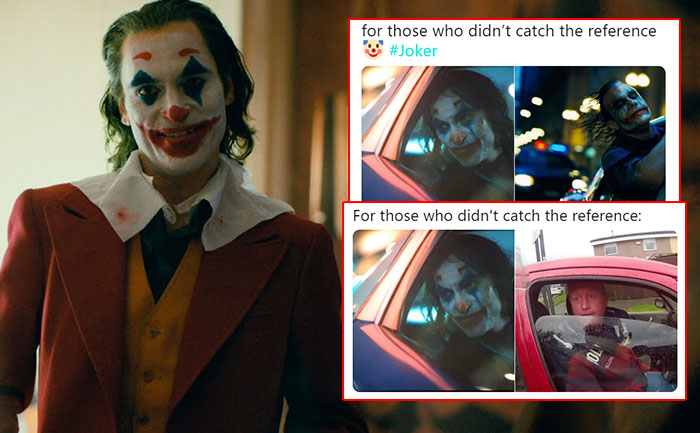 Joaquin Phoenix movie is earning highest praises for his character in the film Joker. The lead actor's strong performance is commendable and winning people's hearts. Even if the film is doing well, it is actually Joaquin Phoenix's character that is garnering complements from everyone. Recently, the memes have been trending on the social media.
Joaquin Phoenix acting to the joker is getting heaps of praises with many comparing it to the previous joker enacted by Heath Ledger in Batman: The Dark Knight film. This comparison is pretty understandable as the film is all about the original background story of the joker. It is the popularity of Joker becoming a villain from Batman universe of Gotham that is making everyone observing references everywhere.
It is this one peculiar reference that is making a comparison between two actors. Here are some memes for you to check out below.
Isn't the whole movie a joker reference… https://t.co/b0DAfKUvON

— h?raci? (@yosoyhorse) October 10, 2019
for those who didn't catch the reference ? #Joker pic.twitter.com/W4YeCCw3wX

— Kevin J. (@__greys) October 6, 2019
Damn both shots have the joker in them

— BOOloo Gang 2019 (@spacejamfan) October 8, 2019
In Joker (2019, directed by Todd Phillips), we see the main character Arthur dye his hair green. This is a subtle nod to the Character called Joker from the series of Indie comics called Batman. Further connections to the comic character have not been found. pic.twitter.com/6HWvzyXriZ

— ≈ℚ???≈ (@VicBossFaalGein) October 9, 2019
Wrong. The shot was a comparison of his sadness of no one noticing him in the beginning to his happiness of everyone paying attention to him at the end. pic.twitter.com/bdeJZrThAH

— Brown Recluse (@blkbuddha) October 6, 2019
For those who didn't catch the reference pic.twitter.com/Q0vSMmvTpK

— Joey Nolfi (@joeynolfi) October 9, 2019
For those who didn't catch the reference. pic.twitter.com/JzzbyPaGo1

— Arianna Rees (@AriWRees) October 10, 2019
I though Lady Gaga was the reference pic.twitter.com/zkDsbYpTdC

— Candy Warhol (@CandyWarhol9) October 10, 2019
For those who didn't catch the reference pic.twitter.com/N3SusX1peq

— Arnold Flores (@typeo13) October 10, 2019
It is hard to catch the reference memes the internet has been getting excited about. Whatever the reference maybe, the memes are getting all the attention and it is only making people more interested to discuss on the subject further. The movie Joker is basically on the DC Comics characters.
The film was officially released on October 2, 2019. Joaquin's performance and the story line that depicts the dark portrayal of mental illness and the painful journey of the Joker has been praised quite a lot by the audience. Directed by Todd Phillips, Joker has been doing well in the box office and is still running in the theaters.
Also Read: 7 Memorable Quotes From Joaquin Phoenix' Joker That Will Stick With Us Forever